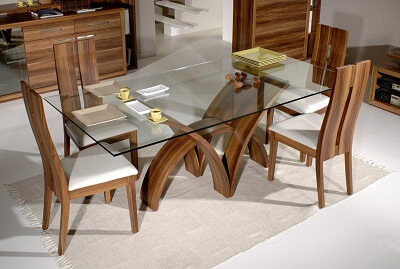 The green mind takes the challenge of recycling to the next level. Furniture is finding interesting and truly unique designs thanks to the thinking of great green minds around the world. If you are an avid DIYer with a green mind here are some ideas to inspire stunning, funky and truly unusual furniture.
Pallets
The pallet has become the green minded DIYer's best friend. Palettes used in shipping and receiving docks have plenty of wood boards and slats ideal for any number of projects. From dining room tables to garden furniture, wood palettes offer inspiration for creating useful furniture with a rustic, yet industrial style. The weather worn wood brings a unique feel to any number of spaces. Headboards for bedrooms can be left raw or padded with foam and fabric using the wood only for a base. Pallets are also used to create texture on walls, to make pretty paths in gardens and to create intricate shelving units. Wherever wood is needed pallets can be used.
Glass Top Tables
You can look at just about any object and throw on a sheet of tempered glass to create intriguing tables. From dining rooms to side tables for the living room or bedroom, look for unique items that will provide a level support. You can then measure and order a piece of bespoke glass from a glass company to place on top. From machine parts to boulders, tree stumps to large woodencable spools, you can create truly unique conversation pieces with the right base. You can use nature as your guide or go completely industrial. You can even use musical instruments, old tiffany lamp shades, two wooden saw horses, large garden urns and antique copper milk cans; the inspiration is endless.
Rethink Furniture
You can also hunt down old furniture from any era and repurpose them for a completely different role. Dressers can be used for bathroom vanities. Sideboards can be made into kitchen islands and widened using bespoke glass work tops to add more space to the surface. Dining tables can be sawed in half and placed on either side of a bed for lamps and books. Baby's cribs can be made into chairs, benches or day beds. Looking at things with a whole new perspective can put old furniture to new use.
Windows, Ladders and Doors
Old window panes can be used for intricate picture frames, table tops and even door fronts for cabinets and kitchens. Doors can be made into just about anything requiring wood from headboards to panel legs for dining room tables to the fronts of a kitchen island or table tops covered with glass. Ladders can be painted and leant against walls or used to hang pots and pans above an island in the kitchen by hanging "S" hooks from the rungs. You can also create interesting support for rose bushes and ivy in your garden.
Creativity has no limits when it comes to recycling. In fact there is even a pub in Germany that turned old trombones into urinals. Go beyond conventional thinking by repurposing items from industry, homes and nature to create one-of-a-kind furniture for your home or garden.