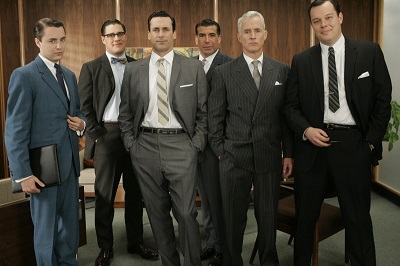 The offices and homes of our favorite Mad Men characters have served as design inspiration for interior lovers ever since the show's first episode, and viewers have watched fascinated as little details gradually change and modernize as the years progress.
As the 1960s ends the sets become more chaotic and darker; this is 1968, during the hippy revolution, but a difficult year politically for war and social changes. The clean and minimalist design of earlier seasons is starting to evolve as we move into the 1970s.
A lot of scenes take place in the creative room, which looks more, well, creative.  Papers and books are strewn about, and Peggy et al are wearing brightly coloured and patterned outfits. Don looks totally out of place with his sharp formal suits and tight collar amongst the more relaxed staff members, showing that he is stuck in a past decade and needs to bring his thinking up to date if he wants to continue in advertising.
If the late 1960s is your interior design era of choice, here are our key tips on getting the look for your home or office:
Pattern
This era is all about pattern. Although generally most notable for the kind of groovy pattern we can see on the walls of Ted's office, this isn't the only style available. In their generally traditional and simple home we can see Trudy and Peter are embracing the times with a pretty white and floral patterned sofa.
Strong, bright pattern can be quite overwhelming in the home, so perhaps the best way to experiment with this is to go for a feature patterned wall, mural, or simply bringing a touch of pattern with ornaments or furniture.
Colour
As well as some stand out, striking pattern general use of colour has changed this season. I personally love the warm oranges, mustards and browns with muted teal accents as seen in the office and the Draper's now more lived-in Manhattan Apartment, and think they would look great in the home for a nod to the 1960s, without it looking overly 'retro'.
Materials
Dark wood and glass are key furniture materials in season 6, perhaps to avoid distracting from the otherwise bright pattern and colour of the decor.
'Natural' is a big look for Autumn/Winter 2013, and this 1970s style furniture will fit in well. Take a look at vintage G-Plan pieces, readily available in antique shops and on E-bay.
Fun
The main lesson learned from this era is the importance of experimenting and having fun. There is a much more playful element brought to the office in Season 6, as the decade draws to a close and the 1970s is about to begin. 'Fun' is key, and the office has brought in shaggy orange rugs and brightly coloured lamps to fit with the era. Adding a few pieces like this is an easy way to bring a bit of frivolity to your own home and freshen up your decor.
Emily Bradbury is writing on behalf of Antiques to Vintage, a portal site bringing together antique buyers and sellers from all over the world.