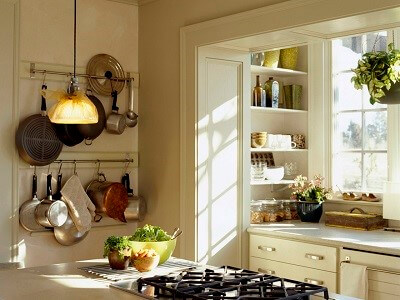 They say good things come in small packages and that can certainly be true of a small but perfectly formed kitchen. There's certainly no need to compromise on comfort and practicality just because your kitchen is small.
If you're thinking about redesigning your compact kitchen then you need to think minimal clutter and maximum efficiency. Using space wisely is the only way you're going to fit everything in and if you don't need something then it's time it went in the bin.
People all over the world from the Cotswolds to Cuba are living with small kitchens, but having a small space doesn't have to be a hardship. Stripping back to the essentials and making the most of what you've got can be a very enlightening experience, even when you're talking about kitchens.
Here's how to make the most of your small kitchen:
Go up, not out
If your kitchen isn't very wide then you're going to have to start going upwards to get more storage space. Hanging pans from the ceiling and putting magnetic knife wracks on the walls will help make sure your worktops aren't cluttered.
Add a splash of color
If your problem with your small kitchen is less about how it functions and more about how it looks then try adding a splash of colour. Bright cabinet doors or a lively looking splash back are the perfect options if you're trying to brighten up a drab space.
Work with awkward spaces
If your kitchen is for example, built in an existing extension, you might find yourself with some awkward spaces to fill. So look at options such as sky lights instead or traditional windows or bespoke cabinet designs instead of ready-made packages.
Display your china
By swapping cumbersome cabinets for sleek shelves on the wall you can display your nicer pieces of crockery and glassware and make your kitchen seem larger and more relaxed.
Save your drawer and cabinet space for the things you really can't bear to have on show such as cleaning products or your extensive collection of Tupperware.
Light up your life
Small rooms often look dark so lighting is vital if you want to make your kitchen look bigger. As well as lights on the ceiling or walls you can also install LED lights under your cabinets which will soften the impact of bulky kitchen fittings.
Think, think, think
When it comes to kitchen design for small spaces you don't have the luxury of just throwing everything in and seeing where it ends up. You're going to have to think about your choices every step of the way.
However, for a lot of people that is part of the fun and results in them having a far more unique and personal room than they would if they had the space for all the latest fads and gadgets. There are plenty of ways to make your kitchen work for you without remodelling your house.
Wendy Lin enjoys landscaping, DIY and re-decorating…