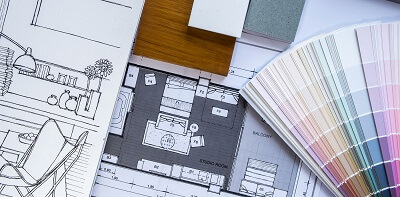 If you are trying to spice up your home, it is vital that you stay on top of the latest London interior design trends. You definitely do not want to go through a costly refurbishment project, only to later realise your design wasn't up to scratch. Or even worse, outdated. Yikes.
As London interior designers, we know from experience that homeowners just like you are looking to refurbish and design their home to create the luxurious, spacious and comfortable environment.
That is why, in this blog post, you will get the low down on the hottest and most popular London interior design trends of 2016. Luxury interior design need not only be a chosen few. Let's get started!
Four Poster Beds
Many people thought four poster beds were a thing of the past, but this year they have made a roaring comeback. In the past we hadn't necessarily associated four poster beds with modern style, but its re-emergence as a very popular stylistic choice in 2016 is giving a lot of people cause for pause.
The classic, stylish look of a four poster bed set is often eye-catching and provides a very special silhouette, which allows a room to flourish. A four poster bed is simply handsome, classical and exudes a lot of class. Definitely one aspect of a bedroom to consider for any interior designer.
Soft Art
Modern art designs on furniture, walls and even tables and chairs are allowing interior designers to add their own splash of personality in their interior. New and exciting patterns, designs and styles of art are being used all over interiors to create blends of well meshed together interior designs.
In this day and age, it is definitely worth experimenting with the art and style you can blend together using your own ingenuity, creativity and personality as an interior designer.
Experiencing Nature
Many modern designs are integrating the great outdoors into their interiors. From adding aspects of greenery to inside areas of the home as well as setting up traditionally interior furniture in the back gardens, there are more and more creative and interesting ways that the nature is being blended in to our interiors. Adding a modern home extension may help you to achieve this too!
In 2016 people are more environmentally conscious, and that is reflected in the tactics and new designs being used by interior designers. Potted plants and nature themed accessories are more popular than ever. Nature is definitely the way to go in 2016.
Geometric Tiles
Decorative backsplashes have gone strong for a long time. Designers are expecting to see consumers gravitating towards more geometric patterns that feature fluid movement.
Cement and even wood are going to play a significant role in achieving this. Whether it is a backsplash, an intricately patterned floor or a countertop, fluid geometry is coming in strong.
Sustainability
In today's environmentally conscious world, sustainability is at the heart of all the latest trends and furniture designs. We are seeing customers with the interest in recycling, repurposing, reinventing and reusing.
This is something most interior designs have in mind, and you will rarely find any new accessories or pieces of furniture being constructed and hitting the market with this in mind.
Black, White and Green Color Scheme
Judging by the market and the industry, it is becoming apparent that black, white, and green is the popular colour palette for this season. The way the colours blend well together is often very eye-catching and most interior designers are implementing the colour scheme into their home in way or the other.
A room that is often featuring this color scheme is the kitchen. This color scheme is trending very highly for kitchen design color schemes.
Naturally Dark Color Scheme
A trend that has been very popular for a long time but is making another step forward this year is the use of natural materials with neutral colour schemes. These are often combinations of dark black and another brighter colour to create a subtle but well done offset.
This was generally only reserved for white and brighter colour combinations, but two tone combinations where dark is the dominant colour are now very popular.
High Contrast Colors
On the contrary to using neutral color schemes, some designers have identified the use of high contrast colors as one way of giving your house a trendy, summery vibe.
This colour scheme is compatible with rooms with a lot of different purposes. Its flexibility and ability to usually fit in well with the wider colour scheme of a home is giving interior designers plenty of reasons to implement it into their designs.
There are only some of the many trends that are being circulated and imitated all over the world this year. Make sure you stay on top of the game, and are always on top of the new trends. We at Urbanist Architecture Ltd always make sure we are more than one step ahead. Good luck with implementing what you have learnt and as always, stay trendy.