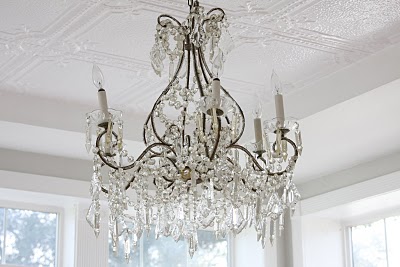 If you're looking to add a bit of glamour to your home you may want to consider investing in French chandeliers or French mirrors. The French have become extremely well-known for some of the wonderful home-wares they produce, although it must be said they really do excel when it comes to extravagant chandeliers and beautifully designed mirrors. If you're getting bored of your current surroundings, furniture and fittings at home you may want to consider how these wonderful items can completely change the look of your home.
French Chandeliers
There are various styles of French Chandeliers, and they can certainly brighten up any room in your home. Possibly, the most popular type of chandelier will be of the crystal variety and they will certainly add a touch of class to any room. With that being said, if you are looking for something that is slightly more understated there is still a vast array of chandeliers to choose from. Other popular chandeliers include the black, pink or gold variety, which will typically fit in very well with most types of decor.
Another popular lighting fixture is the fountain style of chandelier and also the type of lighting fixture that contains many different arms. Each of these arms will have a bulb fitted, which will certainly brighten up any room. If you want a little less light there are also chandeliers which come with shades, so they will keep the lighting level at a normal output, although the chandeliers will look far more elegant that your average light fitting.
In fact, it must be said that a French Chandelier can look just like a work of art in its own right. The various styles often present a very intricate and complex style of light fixture, which can no doubt be the centrepiece of any home. Chandeliers were once only purchased by the rich and famous, who typically lived in a large property or stately home, but nowadays there is much more choice available. You can fit out just about any room in your home with a chandelier and you can guarantee it won't look out of place.
French Mirrors
French mirrors have certainly become an extremely desirable item in recent years and many people will go in search of a French mirror before they even look at another variety. The mirrors are just as beautifully designed as a chandelier and often they will look extremely beautiful when paired together in the same room. In fact, one fantastic reason to consider buying both a chandelier and a mirror is that the mirror will reflect the light that emanates from a chandelier, thus giving any room a real romantic and luxurious feel. We often view mirrors as a simple item of furniture, but they can definitely bring any room to life. Mirrors have the ability to make a room seem much larger than it is and they will also brighten up a sad and dull looking room. In fact, by having a number of French mirrors in your home you'll be very surprised at what a huge difference it will make.
This post has been contributed by Jenny Wadlow who is a part of the team at Maison Saint Louis, a company specializing in French provincial homewares. She is quite passionate about reading and she enjoys catching up on her favorite novels during her leisure time. You can follow her on Twitter @JennyWaldow.