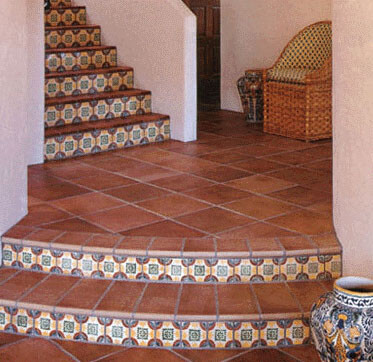 How many times have you looked at your house and wondered 'What could I change about my space that would make it different, but beautiful?'  I'll tell you.  Nothing will make your home more beautiful than Mexican or Spanish tiles!  They are original with many handmade creations.  Mexican or Spanish tiles can give your home a complete makeover that will not only amaze you, but also display your affinity for artistic expression.  These tiles aren't what you can find in a typical home improvement store.  Sure your local Ace hardware, Home Depot or Lowes will have different kinds of tile to choose from, but nothing is more authentic looking than Mexican or Spanish tile.  Just one look at some of the amazing, decorative tiles that are available will get your creative juices flowing and make the possibilities of adding them to your home endless!
The History
Let's take a little journey down memory lane first.  Decorative pottery was introduced to Mexico by way of Spain.  The clay that Mexico's land produced was of the finest quality and due to this it's production became developed in unimaginable fashion.  The craftsmen were the finest of their time.  Because of the many ways pottery and tiles were being produced, guidelines were made that distinguished what craftsmanship was the best.  For hundreds of years the pottery and tiles made in this part of Mexico were the finest of they're time.  The War of Independence changed that.  Pottery and tile production was never the same afterwards.  What has remained the same is the quality of the clay of Puebla Mexico.  To this day, authentic Talavera pottery originates in this state alone.
Mexican & Spanish Tile Today
Today you can find Spanish or Mexican tiles in many places.  An online search can bring up many places that have these types of tiles.  The art displayed on them is unlike any you've seen before.  Having them in your home could work wonders to unlocking the authentic look that many homes lack.  The areas you could cover in your home with these types of tiles are endless.  Walkways, bathrooms, and kitchens are the first places that come to mind.  This type of art on the walls or floors would make these areas come to life.  Imagine putting a painting on your wall only, it's a beautiful tile grouted to the wall with a look that only tile can give you.  An accent wall in your kitchen or bathroom with Mexican tile would be absolutely beautiful.  There are many different styles you can choose from and there even places where you can have tiles made specifically for your flavor!
If you're planning on having tile flooring, a Muriel with Mexican or Spanish tiles would put an accent to your kitchen or bathroom that no one could forget.  Whatever picture you can imagine can be created with craftsmanship unlike any you've ever owned.  Nothing can make a home more original than tile flooring made specifically for your home!  Your entire kitchen or bathroom floor could be of Mexican or Spanish tile, giving it a uniqueness not often seen.  Tile is a common thing in kitchens and bathrooms these days.  Mexican or Spanish tiles are not common and make for an original look all your own.
A Muriel in the middle of an accent wall in your bathroom could be an art of your own choosing.  The counter tops in your kitchen or bathroom could be entirely Mexican or Spanish tile with hand painted designs making your area like no other.
Other areas you can put these tiles in are your pool or fountain.  Looking in on a fountain with such artwork is breathtaking.  Looking down on a pool floor with Mexican or Spanish tiles is something of resorts you visit on vacations.  The possibilities are everywhere if you have the imagination and creative mind for something outside of the norm.  It's true that things can be made nicer with what's already in abundance and probably less of an expense.  Tile can make many areas much better looking with just something simple.  Nicer is good.  Custom to your specific taste with artwork and creations that are made by hand doesn't just sound better.  It is better!
The writer of this article, Peter Austin, represents the importance of tiles to add an attractive impression to home to the viewers. He always prefers and suggest Terra Artenasa for tiles.