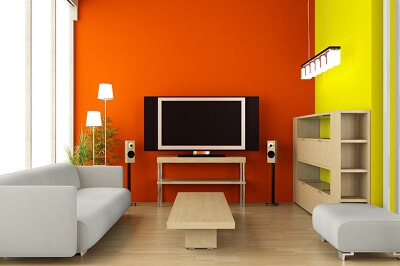 The need for renovation often arises when people get bored of looking at the same walls, floors and furniture for years. Seeing the same colors everyday can tire you and make you want change. The best kinds of renovations are those where you make a minimal amount of change but create a considerable impact.
colors can incredibly alter the way your space looks. Just try to imagine the room that you are sitting in with different colors and you will realize how different it can look. Even the furniture in the room can be improved by having it repainted or its color refreshed. The fact is that your renovation project, whether large or small cannot be complete without new colors.
If you also feel that you need to bring more colors into your home, this article is a great place to start off with. Gathered here are some easy ways using which you can add colors to your home improvement project.
Not Just the Walls!
Whenever paint is considered in renovation, the obvious area that comes to mind is the walls. The fact is that walls are not the only surface where you can use the magic of paints.  You can start with the floor of your home or the room that you want to renovate, the ceiling, the moulding or even the doors and windows. Just scout around the room and if there is any surface that you think can create a colorful effect in the room, simply paint it.
Many people tend to go for stair raisers as well which is a great idea. The colors if contrast with the rest of the room, make for an excellent combination.
Be the Painter
The world to a painter is canvas. Keep this idea in mind when thinking of bringing colors in your home. Roam around in your house and think like a painter. Look for places that can brighten up the room. Think out of the box and choose rich bright colors but always check them beforehand using samples and matching them with the overall theme of the room. Places like the bottom of a bathroom sink or a mirror, a door frame or a shelf can be good places where a different shade can significantly change the way a room looks. Many people tend to overlook places where they think the surface material may not be ideal for paints. But many surfaces that seem reluctant to hold paint are actually the best places to use paints like cast iron, plastic and glass.
Using High Gloss Paints
A lot of people don't consider high gloss paints as an ideal ingredient for renovation projects. They stand out and are too shiny. But this can also be used to your advantage. Many are now using high gloss paints to paint one surface in a room to create exciting appearances. These high gloss paints can be used on wooden furniture, lamps, side tables and different objects to create a stylish aura in the room.
Use Fabrics
One amazingly affordable way to introduce more colors in your home is to opt for colorful fabrics. You can add cushions, pillows and other items in your home that bring color along with them. The best part about using this method is that the price tag of fabrics doesn't leave a dent on your pocket. Also don't forget the curtains. You can also add different colors in the centre panel of your curtains to create contrast and style in your home decor.
Tinkering With Small Things
They say big things have small beginnings. In the world of renovation they say big changes come with small changes. There are many small things that you can do to bring about great changes in your home. For instance you can just change the lamp shade to another color like white to red, instead of getting a new lamp. You can get different things like a light switch plate and make a new kind of home decor for yourself.
There is a reason why the world moved from black and white pictures to colored movies. colors are brilliant and bring joy and delight when added. From weddings to home decor, colors are both refreshing and allusive. If you also want to add colors in your home, follow the simple techniques listed above.
Ahmad Ali has been working in the real estate business for over six years and has helped countless clients in their home improvement ventures. He often writes different articles about real estate and home improvement. Some of his work can be found on bridgewaypropertygroup.com where he has worked previously. He talks about how you can bring more colors in your home in this article.