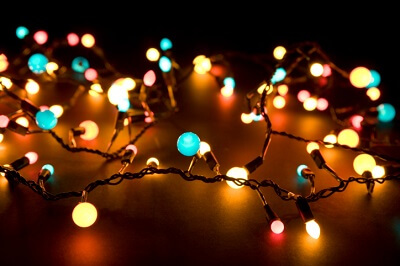 While it might still seem to be a long time away, the truth is that Christmas is creeping up on us, making it important to consider when you should start buying Christmas lights. When you do depends on several factors, ranging from what sort of home you have, through to the range of lights that you need to pick up from suppliers such as BLT Direct. At the same time, you should consider your budget, and what kinds of hazards you'll have to encounter before you invest in your Christmas lights for 2013.
Primarily, check to see what you already have in terms of lights from previous years; some people will re-use the same box of lights until they wear out, which means getting them out of the attic and trying to sort through tangled cables. You might need to invest in new Christmas lights, though, if you've moved to a new home, and if you want to experiment with more complicated arrangements of lights for your indoor and outdoor space.
When picking up your Christmas lights, consider giving yourself plenty of time to find the best combination of bulbs – in this way, you might want to make sure that you have all of your lights by November so that you can work out what your best lighting combination will be. Some of the lighting options that you can look into can include traditional fairy lights, as well as energy saving coloured light bulbs; LED flood lights can also be used indoors or outdoors if you want to project a lot of colour around your home during the Christmas season.
You can also help your Christmas budget by buying your lights before December; this is particularly important if you need to find specialist lights, or if you want to locate good deals on bulk orders. Investing in energy saving light bulbs outside of Christmastime, for example, can be a good idea if you want to plan beyond this year's holiday into next year. Moreover, it's worth picking up specialist lights such as Christmas solar set ups for the outside of your home in advance to avoid paying higher prices closer to December.
Other factors to consider when deciding on how early to buy your lights can include the amount of time that you need to spend setting up and maintaining your lighting arrangement. Are there any hazards that you need to negotiate, and will you need to check your roof before putting up any new lights? At the same time, you should make sure that you have time to pick up extension cables and adapters if you're putting up an elaborate series of lights.
In this context, there are a number of factors that you can consider when deciding on when you're going to put up your lights. While anytime before the end of November might be considered early, you can at least buy your lights in advance and then carry out arranging them closer to Christmas. It's also worth speaking to your neighbours so that they're aware of when you're putting up lights; this is particularly important if you want to create an elaborate light show that's going to dominate your street.
Author Bio: Kevin Maddox blogs about how to get the most out of your home. He recommends picking up your Christmas lights from BLT Direct. He also writes about DIY and interior design.