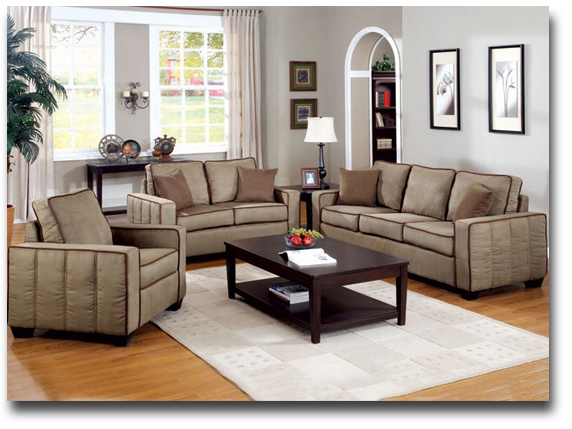 A place to gather, play and hang out, the family room has something for everyone, so make yours special. You can easily design a family room that appeals to both kids and parents. Here are 6 decorating tips for setting up the perfect family room for you.
1. A Cozy Sectional
There's plenty of room for relaxing on a comfy sofa sectional. When choosing one for your home, be sure to consider the size of the overall room. More is not better if the sectional takes up most of the space. A sofa plus chaise lounge combination works well and leaves plenty of room for end tables and an extra chair or two. And go for durable fabrics that can be easily zipped off and tossed into the washing machine.
2. An Eye Catching Mural
Dedicate one wall of your family room for a huge wall mural – one that evokes the spirit of your family. If you love exploring and hiking in the great outdoors, a breathtaking mountain scene will make the perfect focal point. A family of scuba divers will love an underwater image of colorful coral and tropical fish. The sports loving family can choose a Yankee Stadium mural. Whatever your family's interests, there is a wall mural to depict it beautifully.

3. Kid Friendly Zone
A room that looks sophisticated but can stand up to the wear and tear of kids is key. Choose a rug that is not only beautiful, but is comfy to sit on and durable, like Persian wool. Table surfaces that wipe clean are great for snacks and do double duty for working on art projects. Beveled glass and laminate are better choices than say, using your Grandmother's heirloom antique coffee table.
4. Entertainment
Of course you want a great big TV set up and this is the room to do it in. A ceiling mounted projector, 6 by 9 foot screen and surround sound speakers turn your family room into a home theater in an instant. Ceiling mounted projectors start as low as $50 and are readily available at electronics stores. Use light blocking curtains for daytime movie watching and to add a cozy, theater feel.

5. Contain Clutter
Never leave too much "stuff" lying around. Organize and store dvds, remotes, toys, and art supplies in decorative baskets or in an ottoman with storage. Once a day, take five minutes to pick up clutter and tidy up the room. And resist the urge to overdecorate. This will keep the room plan open and inviting and prevent it from looking and feeling cramped.
6. Let There be Light!
Use table lamps or standing lamps to provide adequate lighting for reading or a game of Monopoly. Consider recessed lighting over tall furniture such as bookshelves and entertainment centers to warmly brighten the room without a harsh glare
Your family room is the most lived in area of the home. Setting it up just right using these tips makes it practical for growing families and still allows it to be eye catching and sophisticated at the same time.