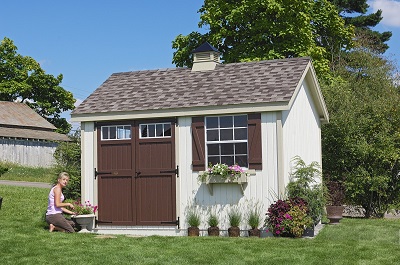 There is so much to constructing a garden shed and its complexity will depend on what your needs are. Whether you would want to incorporate a new garden office, a summer house or a home studio will all depend on your capacity in terms of resources including space. The other decision that you have to make which unfortunately most people do not give much thought is the choice of color? Remember that one of the benefits of a garden shed is to give the landscape and your home as a whole an entire facelift and aesthetic appeal. To make this happen, you need to be creative and artistic when it comes to the choice of color and to match your garden and home. Your personal taste here will be put to test. There are a few ideas that I have listed below which can be helpful and can go along way into ensuring that that you get a perfect blend:
Know How Far You Can Stretch
Before you start venturing into the imagination of choosing color schemes to match your garden shed, you need to know your limits and the playing field that you have. The regulatory structures and the laws that pertain to the construction and decoration of your garden structure must be looked at carefully. If the place your home is located is within a conservation area or a listed building, then you may have to watch out for the restrictions that may have been imposed by the authorities. Restrictions may apply with respect to the colors that that you can choose so as to be within the parameters of style and age and style of the surrounding properties. You need to confirm the impact all this will have on your choices first.
Timber Finishes: Do You Want To Stain or Paint
This is a brilliant question that most garden shed contractors need to ask themselves. There are several techniques through which you can do your timber finishes. You can either stain them or paint. Staining involves the use of transparent or semi transparent substances which gives the timber a unique theme and finish which allows the wood grains to show through in a minimalist manner. Paint on the other hand results into an opaque finish which covers the wood grains absolutely giving the garden shed a unique and total different finish. Stains can be excellent if you want to create a rustic feel. Staining can also have a tremendous impact on garden rooms where they exude simplicity and style of the wood construction.  If you want to create a warm feel, you can use colored stains such as pale neutrals and lime-wash to reveal the wood grains.
When you opt to painting, paints with stronger colors can help you create a statement of style in your garden setting. It can also make the building stand out and have a theme of its own.
Choose a Color Shed That Will Create a Focal Point
A garden shed needs to be the centre of attention and focal point of your entire garden set up. As such it needs to have a tone that matches your other favorite garden features. Among the colors that can bring this out are pale pastels, greens and light creams. The reason behind the popularity of these colors is that they are classics shades and they cannot age. They are also easy and noticeable for the eye in addition to them providing a great backdrop for plant. If your garden shed has the style of a summerhouse and log cabin then a fresh New England feel coupled with light neutrals can work perfectly well. If on the other hand you want a theme that is bold and brilliant, you can settle for the lilacs, pinks and blues.
Color Theme of Your Roofing Material
The color theme of the garden shed needs to include the roofing as well. You need to blend it well with the color scheme of the wall. If you want to create a Suffolk barn look, you need to combine black timber building with a cedar roof. For a Cotswolds feel, you need a thatched roof with a golden oak stain. All this means that the roofing style and color theme can help bring out the ideal theme of the entire garden shed.
The internet has so many sites that you can browse and get inspirations from so that they can help you design a spectacular garden she with an attractive color scheme.
Author bio:
Japheth is a building contractor who has years of experience in the building of apartments and bungalows. He has been working with a team of gardeners to help bring out the complete look of homes. He also blogs on sites such as easyshedstore.com.au and shares with others his knowledge and skills.