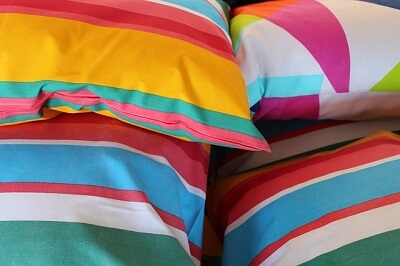 One of the great things about decorative throw pillows is the fact that they can accomplish so much. In situations in which painting or entirely new furniture pieces may not be doable, throw pillows can prove to be enormously useful. Some people underestimate just how much the addition of a few well-placed throw pillows can offer.
If you are planning to add some decorative throw pillows to your living room, bedroom, or any other space you can imagine, there are a few simple things you can keep in mind.
Tips For Purchasing Decorative Throw Pillows
You don't want to choose pillows that aren't right for your home, in terms of comfort and/or aesthetics. At the same time, you don't want to overdo things. As you are going to discover, purchasing and setting up throw pillows is something of a minor science. In order to have the best finished result possible, keep the following tips in mind:
Appreciate size: One of the first considerations with decorative throw pillows concerns the size. A standard square is approximately eighteen inches, and you can use these pillows on sofas that work with standard dimensions. The larger pillows come in at approximately twenty-four inches, and these are going to be ideal for more casual spaces. Sofas with extremely low backs may want to consider throw pillows in the range of sixteen inches.
What about the filling? You want to pay attention to the filling of your decorative throw pillow. Feather-and-down pillows tend to offer superior squishiness, which a lot of people seem to prefer. However, these pillows also tend to be the most expensive. Other materials inside decorative throw pillows include foams and synthetic materials. They won't be as soft, but they will definitely hold their shape over the long term.
Odd numbers: Even if you're not the kind of person who tends to be obsessed with design, you may want to keep overall impact in mind with your throw pillows. One, three, or even five pillows can provide you with the right overall design impression, depending on the size of your sofa.
How many is too many? Simply put, if you have to move pillows around to accommodate even one or two people, then there is a good chance that you have too many pillows.
Build the best combination possible: What kind of decorative throw pillow landscape would you like to create? This doesn't have to be complicated. A pair of square solids can work beautifully with the color of your sofa/couch. An oblong pillow can be placed at the center of your couch, with smaller pillows set up on each side. You are ultimately in control of the final result, so mix and match to create something you know you are going to love.
Start Shopping For Throw Pillows Today
Texture is also an important consideration, when it comes to decorative throw pillows. A tactile contrast is worth keeping in mind. And keep in mind the relationship of your throw pillows to the rest of your room. And remember to have fun above all else.