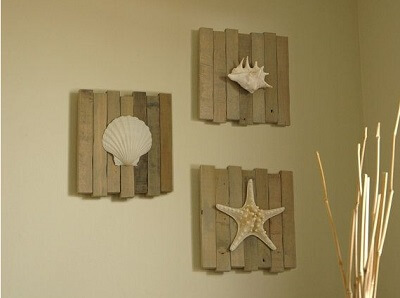 Deciding on what beach wall décor to use in your home can be overwhelming. There are so many choices and designs that you really should consider a theme other than beach. For instance beach wall décor can consist of pictures, wall art, plaques and even painted murals. You should decide whether you want a fish theme, water, shells or other symbolic themes. In keeping with your beach theme you could even choose to paint your wall a textured sand color and then hang star fish and shells on it or paint them all over the wall.
There are a lot of ideas that can be used for beach wall décor. If you visit a new beach each summer for vacation you can collect shells and sand for decorations. Make or purchase a shadow box and fill the box with sand and shells from the beaches you have visited for your own unique twist to beach wall décor. You can even use metal beach wall décor. Purchasing scenes of tropical fish, coral, shells umbrellas and other beach related items you can create a tropical paradise right in your own home.
Murals are a very popular type of beach wall décor too. These can be expensive if you aren't selective about where you purchase them. Many online websites have tropical island murals that can give your home a warm feeling even in the dead of winter. You can expect to pay around $100 for one of these murals. They are actually wall paper that has the mural painted on it. Some come pre-pasted while others must have the paste applied. They generally cover at least a 12' x 8' area so it is important to select a wall large enough to accommodate it.
Many people love the appeal and warm feeling that beach wall décor brings to their home. Use your own imagination to create your own unique wall of tropical beaches. If it reminds you of the beach, then you can't go wrong using it as decorations. Beach wall décor can consist of almost anything that you can remember from your vacations or time at the beach.