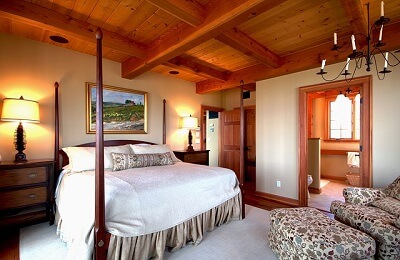 Many believe love is the most wonderful medicine to live a happy healthy life, and quite rightly so. So, why not treat your special someone with utmost love and care in your most intimate moments, and what better way of doing this than having an epically romantic bedroom set for them? Therefore, here I am to help you with these 6 Ways to get an Epically Romantic Bedroom.
1. Open and inviting
Perhaps one of the first things you need to do in order to make your bedroom feel romantic is to keep it open and inviting. You better do away with excess of anything. Just get what you essentially need in there to let it remain open and inviting. Though you can resort to some subtler touches to add that element of elegance into your bedroom, but avoid over-stuffing in any case. This would result in a highly relaxing feel in the room where you guys would end up spending most of your time.
2. Reduce clutter
Clutter can ruin the essence of any bedroom, let alone a romantic one, so you need to avoid clutter by all means. I mean would you feel romantic if your eyes catch in the clutter here and there? I wouldn't, just like any sane person looking to relax and ease off. So, why not take care of clutter in some style and luxury? You can resort to any of king size leather beds with storage solutions available conveniently in the market nowadays, making your bedroom not only clutter free, but also adding a sumptuous focal point in it.
3. Soft plush bedding
Soft cushy bedding will also help you add to the romantic ambiance you are looking to have in your bedroom. Plush bedding will not only make the bed more attractive and inviting for you guys, but will also offer more comfort and relief when lying on it. Soft pillows and comforter would add as lovely accessories in that romantic ambiance.
4. Sprinkle some romance in the air as well
You can truly romanticise your bedroom ambiance by sprinkling some lovely romantic scents around. You can spray some of your loved one's favourite aromas in the air or you can also resort.
5. Light it right
Lighting in a room plays a significant role in determining the ambiance of a room. So, if you want your bedroom to look and feel romantic, you can use lighting to your help. Dimmers work especially well in controlling the amount of light you want in your room at a particular moment.
6. Get a soft rug
A soft rug underneath your lavish bed is yet another way of incorporating some more of that much wanted cosiness and romance in the air. The sumptuous bed with plush bedding's will serve to provide you all the luxury and comfort that one can ask for in a bed, while the cosiness of a fluffy rug would embrace you when you step down from your bed.
Conclusion
With these simple and effective tips, you will get to enjoy all the love and romance with your partner in your bedroom, making your life happier and livelier than ever. And feel free to share some of your ideas with us to make a bedroom more romantic in the comment section below.