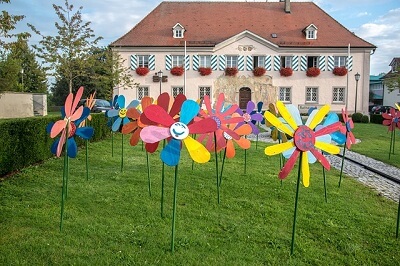 Your front yard isn't only your first impression to visitors, but it's also the first thing you see when you come home from a long day's work. There's nothing more unwelcoming and unattractive than a lawn and a garden that hasn't been tended to. To add more life and color to your front yard, try any one – or all – of the following tips.
Add Color to a Dull Front Yard With Flowers
Flowers aren't just for Valentine's Day or Mother's Day. Not only do flowers present a colorful appeal to your front yard, but they also provide you with a pleasant aroma every time you walk through your front door.
To ensure your home's entrance and front yard is colorful year-long, plant an assortment of annuals and perennials. Adding some Petunias, Lily-of-the-Niles, Snapdragons, or 'Gertrude Jekyl' roses works well, too.
Add Height to a Flat Front Yard With Baskets and Planters
A flat front yard that looks like a desert wasteland is never a good look if you plan on welcoming anyone into your home anytime soon. A relatively cheap and easy way to add height – and visual appeal – to your yard is to add hanging baskets and elevated planters to it. In addition to being pleasing on the eyes, adding this new dimension creates a good drainage and aeration system your plants will love.
When preparing your baskets, each should have three kinds of plants: a 'spiller' that hangs over the edge like a Begonia; a 'filler' that mounds and fills in like a Kong Coleus; and a 'thriller' that's tall and catches the eye like a Purple Cordyline.
Add Blooming Shrubs to a Front Yard Without Flair
Blooming shrubs are a great way to add flair to your otherwise boring front yard. The Chinese Snowball is one of the spring and summer's flashiest shrubs. The white flower clusters on the shrubs get to about 6-8 inches in size. The plant itself can get to as big as 12-20 feet tall and wide. Some other popular flowering shrubs that will make any front yard stand out include the Weigela, the French Lilac and the Daphne.
Add Relaxing Accessories to a Lonely Front Yard
Whether it's a law, ornament or a statue, adding an accessory to your front yard helps liven things up. For a more relaxing environment, you can add a waterfall and a bench. That way, you can take full advantage of your front yard on a sunny day.
Add Bird Feeders to Attract Wildlife to Your Front Yard
Although having an appealing front yard is nice for outsiders, you should be able to enjoy it from the inside of your home, too. Adding a few bird feeders to your front yard will help attract your neighborhood's wildlife. And it's always nice to randomly glance out of the front window and see a spectacular bird.
Add Lighting to Brighten Up a Dark Front Yard
Tiki torches, solar deck lights, extravagant street lamps – no matter what kind of lighting you choose to use, you can bet it'll do a lot to add character to your front yard.
These are just some of the fun things you can do to spice up your front yard. Do you have a front yard you're proud of? What have you done to make it so appealing?
Tulsa Property Managers is a Jenks property management company offering professional property and real estate management, consulting and sales services throughout the Jenks and Broken Arrow, Oklahoma area.