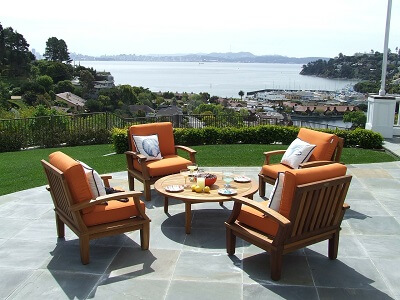 The British are well known for their love of gardens, and as soon as the summer arrives we all head outside for BBQs and lazy afternoons in the sun.
A patio can be a great addition to a garden, giving you a designated space in which you can entertain, dine with the family or simply relax in the sun. When it comes to size, shape, colour and pattern, there is a plethora of options to choose from. Here are some great patio ideas to give your garden a stylish and distinctive look.
Make a circle
Traditional patios tend to be square or rectangular in shape. Buck the trend and make your garden stand out from the crowd by opting for a circular patio. Circular patios suit most styles of garden and can be made from a variety of materials. Sandstone is particularly suitable for a circular design as it is easy to cut into shape.
Cool and contemporary
Patios with a cool, contemporary look are a big trend for 2015. Materials such as limestone or slate are perfect for this, lending your patio a modern, elegant appearance. Make the space pop by adding accessories in bright colours. Lime green accents look particularly effective against the dark grey of slate paving stones.
Create a mosaic
Who said patios need to be made of flat square stones? Inject some personality and creativity into your garden by creating a mosaic design. Use a variety of stones in different shapes and colours for an interesting and eye-catching effect. To ensure you get the desired result, make sure you plan out your design carefully before you start laying. Both granite and sandstone come in a huge range of colours, making them ideal for this kind of project.
Go barefoot
If you can't decide between a patio and a lawn, a barefoot patio could be the perfect solution. A barefoot patio is made up of paving stones interspersed with ribbons of grass. It gives a softer effect than a large expanse of stone – enabling you to incorporate elements of a patio without compromising on greenery.
Puzzle it out
Many garden owners want their patio to have a more natural appearance, and a sandstone puzzle patio is the perfect way to achieve this. It involves choosing sandstones in a variety of shapes and sizes and piecing them together like a puzzle. The cracks between the stones can be filled with grout or with sand and gravel. This type of patio has the added benefit of being relatively easy to build if you don't have any previous experience.
When choosing your patio, make sure it is suitable for the climate you live in. For example, slate doesn't weather well in places with high rainfall and freeze / thaw cycles, but it is great for dry, hot climates. Choose well now and you can ensure your patio still looks great in years to come.
Whether you want something cool and classic, or something a bit more unusual, there is patio out there to fit your garden, your budget and your lifestyle.
Matt Coussens is the director of Milestone Supplies, which provide Roofing, Natural Stone and Reclaimed products.