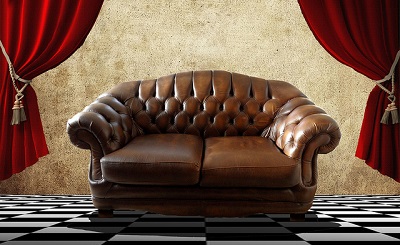 With a mindboggling variety of sofas to choose from, how do you know you've found The One? Do you got big or small, comfy or classy, choose a bold, bright print, or stick with something cool and classic? Modern and trendy, or a failsafe traditional design?
To help you cut through the clutter – here are 5 questions to ask yourself, in order to find your dream sofa.
Does size matter?
Like with most things in life, when it comes to a sofa, looks can be deceiving. That small, cosy sofa that looked like it was just the right size for snuggling on in the showroom can suddenly become a very uncomfortable mammoth that takes over most of the living room, when you finally manage to get it through your doorway. So measure up – look at the dimensions of the room, hall and doorways, as well as how much actual space you want to allocate to a sofa.
Where is it going to go?
Before you even head out of the door to go sofa-shopping, take a long, hard look at the space it is going into. Size is just part of it – you also need to consider other furniture and fixtures in the room. Are you planning to have a coffee table – is there enough space? Will that super-stylish curved sofa set actually fit in your awkwardly shaped living room?
Does it suit your style?
Once you've got the practical parts nailed, it's time to go deeper. It's tempting to go for that gorgeous catalogue-look sofa, but before you sign away, think about whether it's right for a real-life home, and a real-life family. A sofa is the centrepiece of the living room, and makes a major style statement – but you don't want to have to spend a fortune revamping the rest of the room to fit in. Pick a style that suits your taste and home décor.
High – or low maintenance?
Messy kids and pristine, light coloured sofas are rarely a good combination – neither are gorgeous leather couches and a pet that likes to scratch. On the other hand, if you're looking for something that will last forever and be a real showstopper – a low budget fabric sofa is unlikely to hit the spot. Think carefully before you choose something that fits in with your lifestyle.
Try before you buy.
It's well worth trying out swatches of fabrics to see if it will fit in with your décor and colour theme – after all, there's nothing more annoying that finding that your brand new sofa is just a tiny shade off in your perfectly colour-coordinated lounge. Another great way of deciding whether it is a good fit for your room is to try a paper cut out, cut to the size and shape of your planned sofa. Lay it out and move it around – it'll give you an instant idea of whether it will fit in or not.