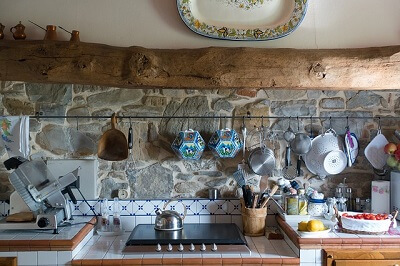 Everyone loves the look of a home with sleek, polished surfaces, sophisticated contemporary lines and cool modern finishes and fittings. Cool, clean and airy is the look that most home owners are after these days, with open plan living spaces and modern fixtures and fittings. But what is the secret to designing your home's interior with a contemporary and modern look, while keeping it elegant and beautiful? Here we provide 5 key tips to keep in mind when designing your modern and elegant home.
Take Your Ideas from the Most Up To Date Sources
Creating a modern home means getting your ideas from the most modern and up to date sources. In this day and age, social media and artist and designer web sites provide a wealth of innovative and creative ideas which you can browse at any time from the comfort of your home. Some of the most popular sites to browse for inspiration and ideas are Pinterest, Instagram, and Etsy where amateur and professional designers gather to share their creations and photos with others. Follow your favorite designers on Instagram or create your own board on Pinterest to gather your favorite looks and inspiration in one place.
The internet provides plenty of opportunities to collect a huge range of creative and interesting inspiration for your home. Think about color schemes, design features and any specific fittings or appliances you want to include as you browse through. Home decoration magazines offer another great option for inspiration and have always been popular, being particularly useful for browsing for ideas of how to put together whole rooms.
Keep It Simple
A key feature of modern design is minimalism, an embodiment of the notion 'less is more'. Modern design features clear, flawless lines and clean, airy space which creates a feeling of freedom, simplicity and relaxation. Clutter can make life more stressful, including providing more places for dust and dirt to hide so keeping it simple means less stuff and less mess. If you have trouble deciding what's necessary and what's not, enlist the help of your partner, a friend or a designer to help you make the cull. In the end you'll be grateful; a simpler life is a happier life.
The other side of the coin with keeping things simple is optimizing the functionality of the items in your home. Every item should have a specific function and do it well. For example, a modern kitchen should have a place for everything that's needed, along with ample workspace and a pleasant, well-lit environment to make the work of cooking a joy.
Stay Wide Open
Open plan living is the catch phrase of modern interior design. Keeping spaces open and airy gives a modern feel, contrasted to the cramp, crowded and musty spaces of yesteryear. Although in some cities, such as Toronto Canada, are only slowly shifting to a more modernist home design style, those who are overhauling their living spaces or building anew are taking the opportunity to shift to a more modern look. If you're planning major structural changes or a rebuild, considering opening up your living spaces so that, for example, you could remove walls and have the dining room integrating with the living room for a more open and spacious feel.
Get the Help of an Interior Designer
Of course it's hard to go past professional help for any service, and interior design is no exception. The trained professional and artistic eye of an experienced contemporary home decorator can really make a world of difference to the look of your home. Professional home designers have a world of resources and ideas at their fingertips and are more likely to know what will work well in your space. Chances are you've only ever tried to design one house (if that), whereas an interior decorator could have hundreds or thousands of home designs under their belt.
A home decorator is a particularly useful investment if you don't have the time to put into your home design or you simply don't have that kind of eye for detail. Needless to say, with a professional on your side you won't be disappointed.
A Splash of Personality
Your house is your home, so it should also be a place where you can express your personality. Bring your own individual style into a modern home with a brightly colored feature wall or a stunning sculpture or artwork.
The basis of a great modern home is a simple set up with a neutral palette, but this doesn't mean it's anything like boring. Add your own touch of flair with a colored throw or floor rug, the possibilities are endless. Working with an interior designer is a great way to pull this off as they usually have vast experience in bringing unique personality to your special space.
With these easy tips you can create a beautiful modern living space with the style and elegance of a stunning and unique contemporary design.