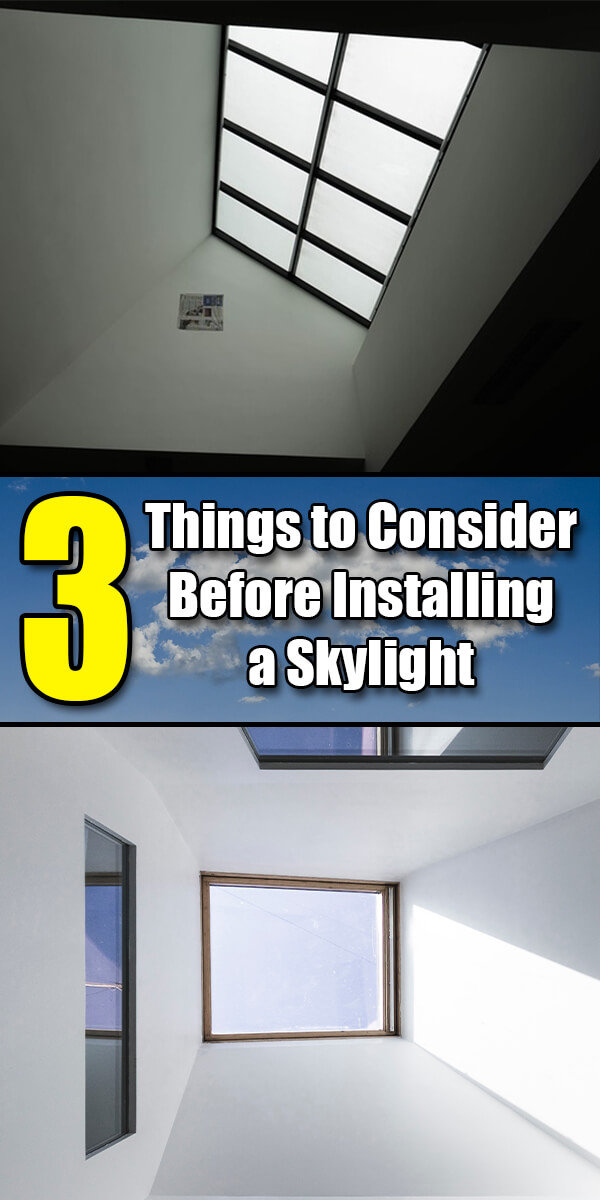 Skylights allow five times more additional light in than a sidewall window. They also add a greater amount of warmth. The cost of installing a skylight means you need to educate yourself on the complexity of this type of installation. Structural conditions and design conditions are concerns you need to plan with a professional contractor.
You need to consider three important things before you install a skylight. Manasa Reddigari, of Bobvila Construction, suggests giving the following considerations some thought before installing one:
Construction of the roof
Material to construct the skylight
Location
Carefully consider these three important factors before allowing your contractor to begin the installation.
Construction of the roof
The construction of the roof must be able to support the skylight. These lights are installed at the roofline beneath the roof shingles and sheathing. The roof framing is most important and comes in two types:
Stick-framed roofs – these are built with individual rafters placed four feet apart. These are better suited for skylights because they leave enough room to cut a place for the skylight between the rafters,
Truss-framed roofs – these are named because of the prefabricated triangular units they are made of. Trusses are not designed to be cut after they are installed. If you cut the trusses, they can cause problems with the actual structure of the roof.
The slope of the roof also needs to be taken into consideration. Gable, hip, and shed roof shapes are the best choice because they have a slope that will allow rainwater and debris to fall down away from the skylight.
Material to construct the skylight
Manasa Reddigari explains skylights are made of wood, vinyl, or metal frame which holds a light-transmitting piece called glazing. you can choose either a plastic or glass glazing for your skylight
Glass glazing – this is your best choice. However, glass is twice as heavy and 25 percent more expensive than plastic. Glass is a better choice because:
Clearer
More scratch resistant
More impact resistant
Resists discoloration
Blocks out more UV rays
Comes in custom sizes and shapes
Glass glazing also offers two insulating options:
A low-emissivity (low-E) coating. This is an invisible layer of metal oxide on the inner glass pane.
An intervening layer of argon gas between the two panes to help retain indoor heat in winter, block exterior heat in the summer, and block out nearly all UV rays. If you decide to install glass glazing, select tempered or laminated glass. This will prevent the glass from breaking into many sharp pieces on impact.
Plastic glazing – is sold in a stronger polycarbonate or weaker acrylic variety. This is:
Cheaper
Half as light compared to glass
Less likely to break
BUT
Scratches more easily
Discolours more easily
Blocks little to no UV light
The addition of a skylight can add lots of light, sometimes at the cost of less privacy.
Location
When deciding on a skylight location, choose a specific room. A room located directly below the roof such as an attic of guest bedroom. Your installer will choose a section of roof that meets the minimum slope requirements. This choice is necessary to meet the manufacturer's specifications.
Ultimately I think it's safe to say that skylight installation is a job that should be left to a skilled and professional roof repair company in Macomb County, Michigan. We're all about doing things yourself, but sometimes its for the best to just let the experts handle it!