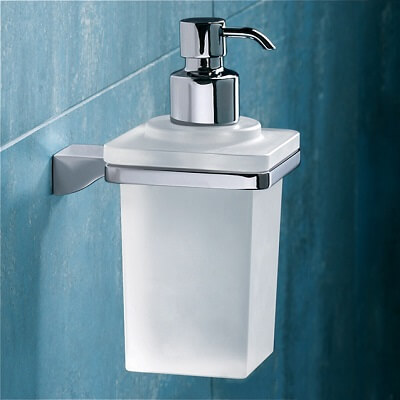 A soap dispenser once triggered or manipulated appropriately gives soap in single-use small quantities. The device can either be automatic or handle operated with most of them found in public places, especially the restrooms. While there are so many designs and types of quality soap dispensers, here are ten.
Frosted glass soap dispenser
This is a trendy type of soap dispenser ideal for a garage, washroom, kitchen or any other place where there are hands to be washed. It can be filled up with the favorite liquid soap or moisturizing lotion. Apart from being dishwasher safe it comes with a unique frosted glass style.
Automatic soap dispensers
Different brands of automatic soap dispensers are offered in the market today and come with a very inviting soft form ensuring the automated pump technology is heavily approachable. Just a gentle taper around the neck gives enough liquid without touching the device. They are usable with hand Sanitizers, liquid hand soap or dish soaps.
Wall mounts soap dispenser
In most cases, this type of dispenser is associated with commercial and public comfort rooms in restaurants or malls. However, it is a wonderful addition to any modern bathroom since it is clutter free, easy to install and use and refillable, saving you money.
Automatic sensor soap dispensers
This soap dispenser design ensures you have reduced germs while saving money. It is a touch-less type of system allowing you to use the ideal soap for hand cleaning as a result of equal dispensing each time. There is no way more than enough soap is dispensed, saving on soap and money since refills are also available.
Chrome soap dispenser
Chrome gives one of the cleanest and sleekest looks there is. This soap dispenser brings into a kitchen or bathroom the elegant touch sought out most of the time. Being a straightforward device and convenient in soap dispensing, the chrome soap dispenser can be free standing, ideal for the kitchen or home bathroom or a wall mount soap dispenser for a restaurant kitchen or public bathroom where it is heavily in use. They can also be manually pushed or automatic, depending on what you have in mind.
Ceramic soap dispensers
Due to their warm feel and unique design, these dispensers are very popular today. While they are mostly put in bathrooms, they can be added to a home for that additional homely touch. It is also the kind of dispenser to go for if you need something stylish and unique that is not plastic.
Satin nickel soap dispenser
This is a great option for those who would like to make their bathroom appear modern and updated. It has a stainless make that avoids rusting and attractive enough to come in different shapes, perhaps made of glass or part metal.
Foaming soap pump
This type of soap pump converts liquid soap into useful foam ensuring soap is not wasted making it to last longer. Most have clear plastic frames with the pump head made of bronze for durability. They do not rust and cleaning them is much easier.
Oil rubbed bronze soap or lotion dispensers
This dispenser combines dark accents, tumbled light with the warmth that comes with bronze to give that crucial antiqued appearance and gives the right amount of soap.
Antique copper soap dispenser
An antiquated copper soap dispenser is uniquely made for those desiring a functional yet classic modern dispenser.