In the recent years, the popularity of wet rooms has surged. To understand the benefits of a wet room, it is essential to understand what a wet room is. A typical bathroom will have the bath, shower toilet and sink. In wet rooms the bath is replaced with a shower which is enclosed within a glass panel to prevent water from seeping into the rest of the room. Every homeowner today is seeking to have a spacious and luxurious home. When it comes to bathrooms, the simple, sleek designs of wet rooms are incomparable.
If you are planning to redesign your current bathroom or add a new one to your house, we recommend opting for a stylish and designer wet room. They provide a number of benefits which makes wet rooms your options for every bathroom refit.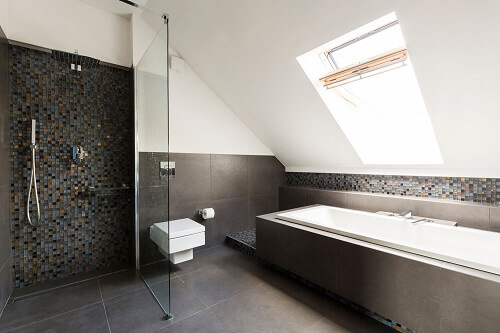 Accessibility: Wet rooms are a good option if you have someone in your house with restricted mobility. Wet rooms do not need a shower tray, making access to the shower much easier. The floor level in the entire room is the same with a slight slope towards the drain hole so that the water flows towards the hole instead of just lying around the floor. Since the level is the same, the elderly, disabled or kids in the house can easily walk in and have a shower.
Property value: It is said that an additional bathroom in the house will increase the property value by 11.5% or more and if you have a wet room then the value automatically goes up.
Quality of the property: Adding waterproofing to one of the major areas of your home that is particularly susceptible to leaks, can only be a good thing in terms of the overall structure of your property. The slope in the wet room allows all the water to be disposed immediately from the floor, and moisture is contained within the sealed walls of the room.
All this adds value and makes a wet room very attractive when you look to sell your property, especially if you have a second bathroom as another option.
Stylish look: The wide variety of options you can choose while designing your wet room gives you an unrivaled contemporary looking room.
Spacious room: Congested bathrooms can be very boring and hard to use. Removing bath or walk-in showers and adding an overhead shower with enclosed tank system can give a beautiful illusion of space. Since wet rooms are designed for minimalism, the aesthetics of the room gives you a lot of space to move around.
Fresh and Clean: Wet rooms are easier to clean and maintain than the traditional bathrooms. As the environment is usually very wet, regular household bathroom cleaners can be used right around the room to disinfect and keep mildew and mold at bay.
Designer rooms: Different materials like wood, concrete, stone can be featured in a wet room. So, you can let your creative imaginations flow when designing this space.