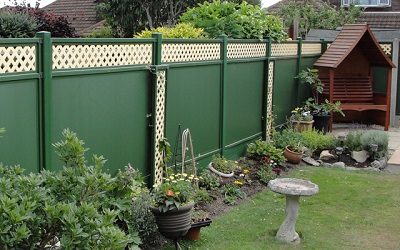 Every house with a garden or an area that needs to be enclosed will have some sort of fence. With new houses being built all the time and older houses being updated, which type of fencing is best for a more modern home?
Traditional Fencing
A wooden fence is the most original and traditional form of fence.With countless styles and types of fence panels it has always been a go to for people looking to enclose an area.
The traditional style may well have a lot of variety, but it also means the quality tends to vary as well. With so many different types of wood available it means there are plenty of cheaper options, especially for people who may not be able to afford expensive fencing and are looking for a bargain. This type of fence will be damaged a lot easier and will need to be maintained more often.
There's no doubt that a traditional fence is a nice feature for a garden but maintaining it is something you'll need to do often. You will need to apply creosote to prevent rotting, and paint to keep it looking presentable.
Modern Fencing
The majority of houses these days with new fittings such as double glazed windows, doors or a conservatory will have used UPVC. The same material is also being used for a more modern style of fencing. UPVC is used on products that will face the elements on a daily basis and will never rot, and are UV stable. It's more than likely that your windows and doors are made from it, so why not extend the same level of care to your fencing?
For many people a fence is simply something to enclose your garden, and not something they want to keep maintaining every so often. This is exactly why a modern fence is ideal. All you need to do is wash it with some soapy water to get it clean, and the material will last up to five times longer than wood. This will not only save you some time and effort, but also save you some money if you aren't replacing your fence so often.
Traditional fencing has always been appealing because of the variations in size and style. But now modern fencing has just as many variations, so you can use a modern fence whilst still having the style you want for your home. With so many different sizes you will no problems when it comes to enclosing your garden or other areas of your home.
Hybrid Fencing has several different fence panelling options depending on the size you need, and how high you want it to be. Each panel is a consistent length (1800mm), with different options of height depending on what you need. The options they have are 900mm x 1800mm, 1200mm x 1800mm, 1500mm x 1800mm and 1800mm x 1800mm, as well as a 1200mm sloping panel for something a bit different and also a standard gate (935 x 1775) if you need a doorway as part of your fence. You can see all of the products they offer on the products page of their website.
Tim White is the director of Hybrid Fencing from in Billericay, Essex, and specialises in supplying and installing hybrid fencing.