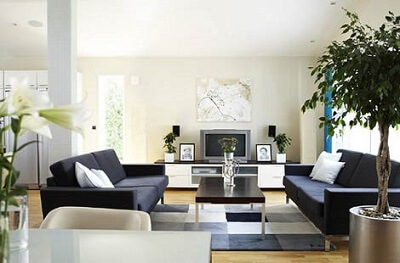 Interior décor styles can be many and varied. While some like it to be rich and heavy others like the minimal style. When one decides to go for the minimal style of interior décor, all unnecessary elements are eliminated and lesser and simple style of décor is adopted. Studies have shown that Japanese form of design have a major influence on minimalist décor. Here are a few ways of decorating home as per the minimalist style
De-cluttering: Since minimalist style of décor is all about eliminating unnecessary items, de-cluttering forms the basis of this design. By thrashing all unused items and neatly stacking all essentials a pleasing and clean look can be created indoor. Cupboards and chests can be used to neatly organize books and other items that are put to everyday use. Using minimum number of furniture and accessories itself provides a neat and uncluttered look to the room. Floor should be left by itself without using rugs and carpets.
Color: White and neutral colors are best suited for minimalist décor even though bold colors are also put to use. But make sure that the walls are not overdone with different color schemes. A single colored wall would look ideal. If bold colored furniture is used, then make sure that the shades are slightly different so that it looks pleasing to eyes. Windows can be left bare or neutral colored blinds or curtain with less patterns and designs can be used.
Furniture and accessories: Modern furniture is the essence of minimalist design. One need to completely do away with traditional furniture that are highly rich and ornate. While using wood furniture, stick to wood of one color and avoid using textured ones. As discussed above, try to use minimum number of furniture to create a relaxed feel within the room.
Focal Point: A minimalist décor will always have a focal point based on which all other types of décor elements are designed. It can either be a sofa, a painting on the wall or a sideboard. This focal point can be highlighted using a focus or track light.
Placement: Since minimalist décor is all about giving an organized look to the room, it would be wise to group and place together all similar items. For eg, if candles are used as décor accessory, then group together candles of all sizes and shapes and place them together.
Minimalist design goes by the motto of less is more. Clearing off all junk and keeping the room well organized and tidy is the key to minimalist design.
Author Bio: Emma Wilson is a guest blogger in the home decor/improvement niche and is working for a company that is into carpet cleaning in Brisbane. She has written numerous articles and blog for various clients in the above niche.