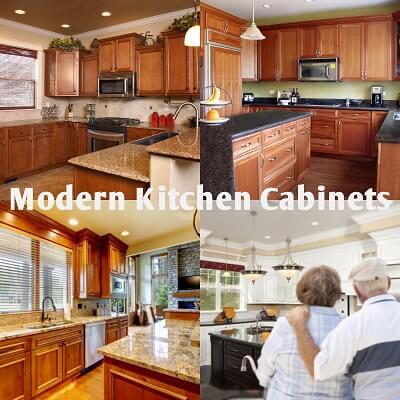 It is hard to deny the importance of the kitchen. It's not just a place to prepare food. We spend a lot of time here eating and socializing as well. It is a busy room that needs to be comfortable and also have a lot of practical utility. That is why homeowners and designers are always looking for new ways to improve and modify kitchens. Here are some of the kitchen cabinet trends to keep an eye on this year:
Shaker Style Cabinets – These classic and simple cabinet designs are as popular as ever. They work wonderfully with a range of different interior design styles. The clean lines work with anything from a traditional cottage aesthetic to a more sleek and modern home. They also accept a lot of different colours and darknesses beautifully.
Light – While dark stains on shaker cabinets look great without a doubt, maximizing light is on trend this year. White or off-white paired with shaker simplicity helps maximize a feeling of lightness and ease in your kitchen. Remember not to forget grey when thinking of shades of off-white. Light neutral greys can actually be quite lovely in the kitchen.
Accent Lighting – Adequate lighting has always been important in the kitchen. Edison bulbs, with their visible glowing filaments are an excellent way to add some character to a kitchen with the lighting. They can hang above the island from the ceiling or be mounted over the countertop from under the upper cabinets.
Open Floor Plans – In a way, the kitchen is the real centerpiece of the home. Opening it up to include dining and family space greatly expands the livability and practicality of the space. Instead of a complete wall dividing the kitchen and dining room, consider a partial wall of cabinets.
Open Shelves – An extension of the bright, open, and airy trend is having open shelves in place of closed cabinet doors. They don't have to replace all of the cabinets in the kitchen. Even only a few open shelves in just one spot can really make a visual difference. Matching dishes or a cookbook collection both look great on the shelf.
Unique Islands – Kitchen islands that stand out from the rest of the cabinetry design are a bold and fun trend. Butcher's blocks and simple tables can both make great islands. Painting the island cabinets a contrasting colour from the rest of the kitchen is another great way to achieve this effect.
Efficiency – More and more, people are finding new ways to take advantage of all available space in the kitchen. No more false cabinet panels and no more wasted spaces. Custom drawers and trays can be designed to utilize spaces that would otherwise be inaccessible.
Accent Colours – Not only can you have a contrasting island colour, there are lots of other areas for a popping splash of vibrancy. The built in hutches, cabinet panels, backsplashes, and individual appliances are all good candidates for an accent colour.
High tech – Every quarter there are more high-tech gadgets and appliances available. This trend shows no sign of slowing down. Smart refrigerators and smart food scales that synch to your phone are just a couple of examples.
Interested in any of these ideas? Its time to find a fully capable team to bring these modern designs into your kitchen.
Mark Clair is a 46 year old interior designer, decorator and planner who works for Heritage home designs in Toronto. He is a prolific writer and enjoys putting his thoughts into words on pretty much anything around that evokes an interest in him. Happily married and the father of a new born girl, Mark is now exploring the many little joys and challenges of parenthood. For more information, follow him on twitter.