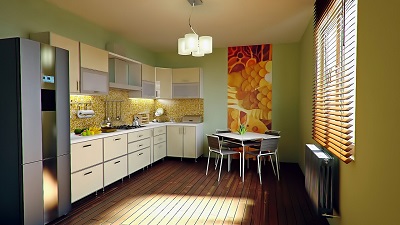 The purpose of a kitchen has changed dramatically in recent years. It has gone from being solely a place to prepare food to being the hub of the home. It is a space where the family can meet, homework can be done and guests can be entertained. How a modern kitchen is laid out will greatly affect how it will be used.
Kitchen and Dining
Ideally a kitchen should be a large space. Many home owners are choosing to sacrifice a separate dining room or some living space in favour of having a larger kitchen. Having a combined kitchen and dining room means that whoever is cooking does not have to be separated from the rest of the family or from any guests.
Space for the dining room table, slightly away from the main cooking and sink area, in the kitchen is a real advantage for a modern kitchen. It takes some of the formality out of a meal, creating a better environment. It is also a lot easier to serve food and clear up after a meal if you do not have to go into a different room.
Island
For those fortunate to have sufficient space, an island or a breakfast bar dividing the kitchen space from the dining space is the perfect practical feature.
It acts as a partial barrier between kitchen and dining, giving the cook some space to work, but it also maintains the open plan feel, so the cook is still fully involved in the conversation at the dining table.
Not only that, but it can be used as an informal dining area for weekday family meals and as a space for the kids to do homework, for post to be opened and for the paperwork.
Extra cupboards can be included underneath the island or breakfast bar, while still allowing room for people to sit. This can be used for extra kitchen equipment or for somewhere to put school bags out the way.
3 Point Plan
To layout the business end of the kitchen it is important to have a 3 point plan. That is, the fridge, the cooker and the sink. All of these should be within easy reach of each other to make preparing meals easy. There should also be plenty of work surface, but how much will be decided by how much space you have available.
Storage
A modern kitchen needs plenty of storage space to keep the surfaces clear and everything organised. There are now plenty of storage options on the market, so it is a case of doing some research and deciding which option is best for you.
Wall-mounted cupboards are perfect for storing dried goods, as they do not take up any floor space and keep all food away from any opportunistic vermin. Having cupboards mounted above work surfaces also means that you can install spotlights, making it easier to work in the kitchen.
The layout of a modern kitchen reflects how the kitchen is the hub of the home. It is as much about practicalities as appearances and creating a space that both family and friends can enjoy.
Written by Izzy Crouch, from Inhome Design, experts in Home Improvements in South Wales.