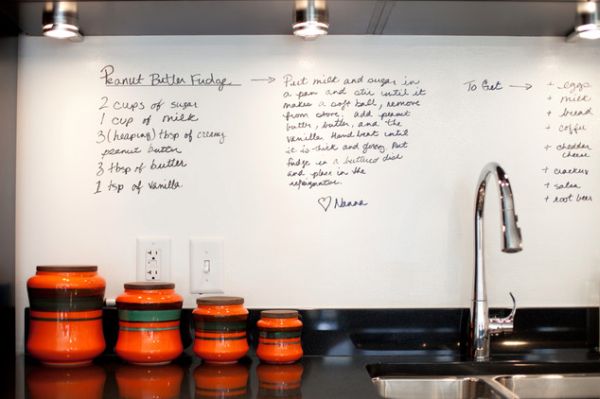 Are you in need of a bit of a de-clutter in your kitchen? Looking for a new way to display exciting recipes or keep family members up to date? We are all being told to be environmentally friendly these days and as the 'to-do' lists pile up on the kitchen table you might be best to add a stylish whiteboard to your kitchen set up.
More Economical Than a Post-It Note
Frantic work schedules and endless children's extra-curricular activities mean that weeknights can sometimes get a bit hectic. As parents ferry their kids about and couples arrive late from work a whiteboard can offer an inexpensive way to keep up to date. A quick note, 'Popped into town, back by 5', is a quick and easy way to stay in contact.
Got Milk?
Why not use your whiteboard as a communal shopping list and a way to divvy out the weekend shopping trip. Members of the family can simply add to the list all week long without having to go off on a hunt for the latest version of the weekly shopping list.
Hosting Duties
Lets face it – hosting a dinner party can be a stressful affair if you tend to panic in the kitchen. Hanging a whiteboard onto the kitchen wall or the front of the fridge can be a great way to note down all your tasks and get your timings in order and when the guests arrive you can even use it as a smart way to display the evenings' menu.
Recipe Reminder
As the volume of food bloggers continues to grow so does the inspiration for fun and exciting weekend meals to cook up. With torn out recipes from magazines and quickly printed food ideas off the web cluttering up the kitchen side a whiteboard can offer you space to keep track of those recipe's you'd been meaning to try.

It's Magnetic Too!
Why not go that little bit further and make sure you invest in a magnetic white board. This facility is extremely useful when looking for somewhere to put nice post you have recently received such as postcards and the invitation to that birthday party that's coming up.
A Calendar for the Whole Family
If it's hard to keep track of where the family are or at least where they are supposed to be then why not use your whiteboard as a communal calendar. Colour coded to make each family members' commitments easily stand out this would be a very useful addition to any kitchen.
The whiteboard offers a relatively inexpensive way to improve your kitchen, why not try it out today and see what you can use yours for?