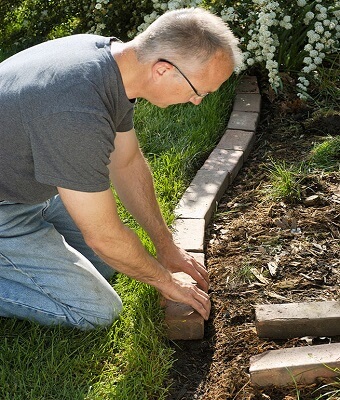 It can be very difficult to keep a garden healthy and attractive during the winter months. You've got the constant cold and incessant frost to deal with – that's not to the mention the fact doing a bit of outdoor preening in the winter isn't most people's idea of fun. Then again, it's absolutely true that gardening is a labour of love and determination.
If you want a beautiful garden all year round, you've got to be prepared to put the work in – even when it's freezing outside. After all, it won't be long before those lazy summer days come around again. It's all about carefully tending to your plants, keeping them from the worst of the cold until they're strong enough to fend for themselves again, says Channel Four expert Sacha Markin. Here are a few handy gardening tips from the experts. Snail Control – if your plants seem to attract a plague of snail slime during the night, why not try a light sprinkling of coffee powder just around the perimeter of your plants? Coffee dries out snails, preventing them from moving on to and eating your prized lettuce patch, says Daily Mail journalist Louise Hampden.
Plant Annuals – annuals are some of the easiest plants to grow. If you don't quite have the green fingers that you'd like, stick to annual plants that flower within twelve weeks of sowing. Plant the seeds, wait for them to grow and then de-heard them on a regular basis. This will ensure that they keep producing flowers over and over again. It doesn't matter if you sow them late either.
Bench It – one of the best ways to create an attractive focal point around a garden tree is with a bench. Do make sure that you leave enough room for the trunk to expand, or you will stunt the growth of whatever you have planted and hope to see flower. Visit 4 Winds for more advice on making your outdoor space look attractive and interesting all year round.
Wild Paradise – if you want to attract wildlife into your garden, you could try planting some patches of lavender. It is a fact that bees and finches adore fresh lavender. Daisies are great for bringing in lots of butterflies and grasshoppers. Ivy is ideal for lots of different types of insects, and berries are there for the birds. If you've got ivy in your garden, you might spot a robin or two this winter.
Lots Of Space – try not to forget that cramped borders don't work. Flowering plants need lots of space – about 1.5 to 3 metres from front to back. If they don't have this free space, they won't be able to grow to their full size and potential. Cramped shrubs and space deprived perennials can actually end up spilling out onto your lawn. This looks extremely untidy and will make a lot more work for you in the end, says Telegraph journalist Helen Yemm. Cool Those Seeds – not many people know that seeds need to be kept cold, dark and dry over the winter. If you are waiting to plant a range of different seeds in the summer months, make sure all specimens are kept in the fridge. It might sound a little strange, but it can have a big effect on how well your seeds eventually grow.
No To Terracotta – a terracotta pot will absorb water, so stick with ceramic products during the summer. A plant in a terracotta pot will dry out much faster than a plant in a plastic one – if you genuinely want your favourite flowers to have a long and healthy life, stay away from terracotta. When you have no choice but to use a terracotta container, line it with an empty compost bag that has been punched with small holes. It will keep the soil moist for much longer.
Author Bio: Ariel Winston writes for an online gardening magazine. For reliable landscape gardening services and solutions, she recommends 4 Winds. She can usually be found blogging tips about flowering plants and germ prevention on her personal website.