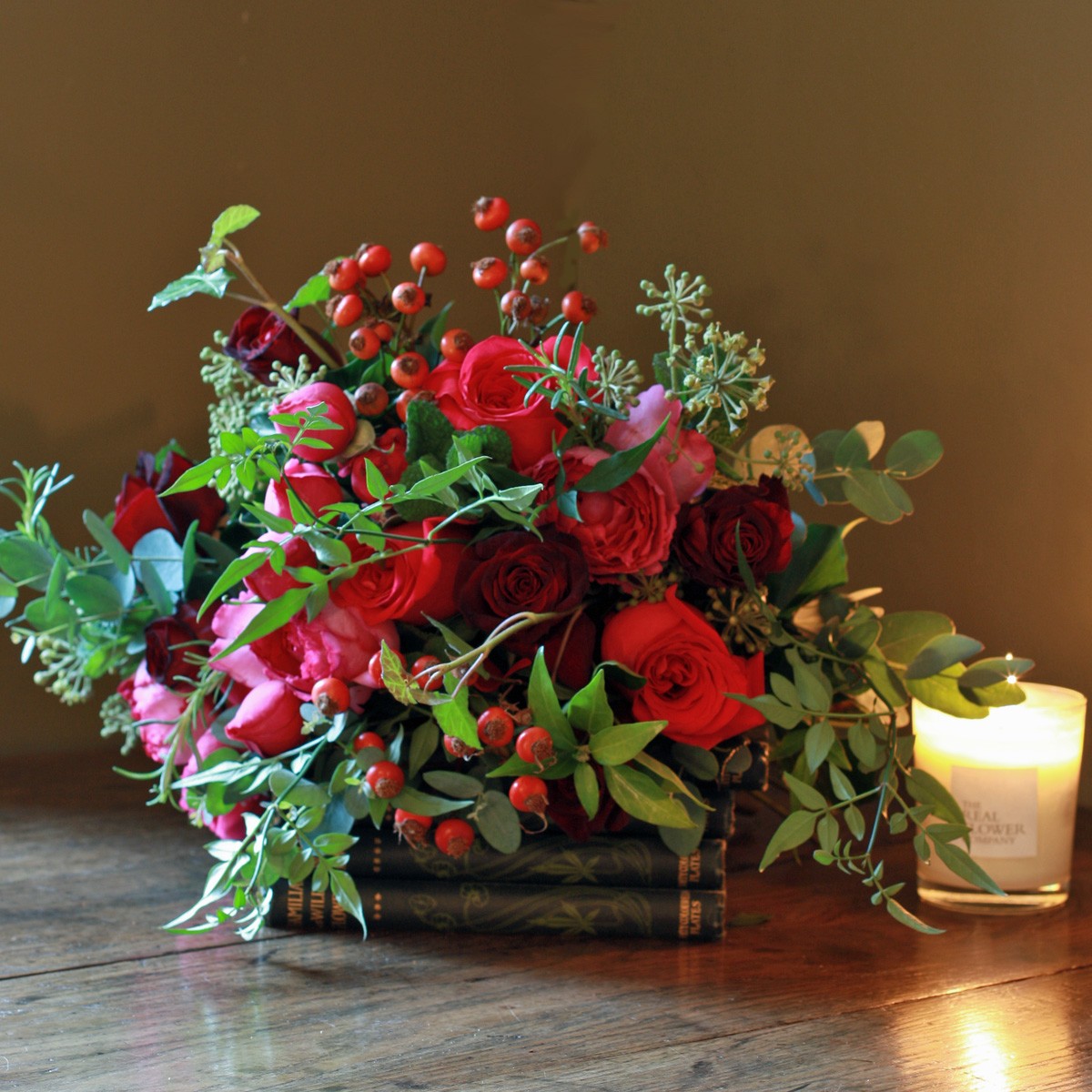 If a string of lights, an advent calendar and a garish Santa Claus or two don't do much for you, there are other, more tasteful, ways to make your home beautifully festive at this time of year. Before the c commercialization of Christmas, when Christmas trees were fir not fiberglass and wreaths were real not plastic, bringing seasonal flowers and foliage into the home was the traditional way to welcome the festive period and create a little interior warmth during the darkest month in the calendar.
For many of us, seasonal specimens are still a favorite way to brighten up our homes when December darkens our doors. From the holly and the ivy, to fir trees, mistletoe and poinsettia, there is a whole seasonal palette of traditional options available for those of you looking to bring seasonal cheer to your interiors. Here we discuss some of the more traditional festive floral options and a few more contemporary and innovative looks you can achieve at home this year too.

Traditional Winter Flowers and Foliage
Before tinsel and fairy lights, many festive folk made use of the natural decorations available to them in the month of December. Not only were these decorations readily available and often free, but they are also really gorgeous with dark warm tones and bright, jewel-like berries which made beautiful decorations and created the cosy feel Christmas calls for. Here's a little history and information about our festive favorites.

Mistletoe
The use of this stunning, berried plant goes back centuries and is an example of the Celtic roots mixed in with our Christian festivities. The Druids of Europe believed that mistletoe had mystic properties which brought luck, healed wounds and warded off evil spirits (particularly important during a long, dark December). The opalescent, pearl like berries of mistletoe flourish around the Winter Solstice. In more modern mythology, mistletoe is magical for rather different reasons, winning you that Christmas kiss you've been waiting all year for (and it looks beautiful too!).
Holly
Here's another Christian plant with pagan origins. In Christianity, the holly berry represents the drops of Christ's blood, while the prickly leaves resemble the crown of thorns. For the Romans, however, holly was used to decorate during the festival of Saturnalia (which also corresponds to the Celtic/Druidic winter solstice). It's clear to see why this plant has become a firm favorite at Christmas time. During this dark, relatively colorless season, the bright red of holly berries add festive cheer and some much needed color.
Ivy
According to some ancient legends, ivy is a highly effective protection against house goblins which are especially nasty during the dark winter months. Whether or not you are plagued by house goblins, ivy is a much loved Christmas time plant. As a very hardy evergreen which can be easily woven and worked into decorative shapes and formations, this is a great natural interior decoration. When you bring ivy in for the festive period, it's easy to see why our ancestors have been decking the halls with this plant for centuries. It lasts beautifully and is a constant reminder of natural beauty and on-going life throughout the winter when it can seem like the natural world is dying around us.

Free Festive Foliage
If you are planning on bringing traditional flowers and foliage into your interior design this Christmas, before you head to your local garden center, consider collecting your own. It's fun, free and festive – sure to fill you up with seasonal merriment – especially if you have some warm mulled wine to come home to after your foraging.
Holly and ivy can be found readily in the UK woodland. You may even have an ivy plant climbing your house. Head out for a walk with a pair of secateurs, a big basket and some gloves (holly can be very sharp and ivy can provoke a nasty allergic reaction). If you do stumble across the right plants, be considerate. Don't ravage the plant, take a few prime boughs and then move on to another one. That way, next year, you'll know where to find the best foliage and everyone else will be able to enjoy the natural world too!
Mistletoe can be a little trickier as it tends to grow in large ball-like clumps at the top of deciduous trees. This means it can be rather perilous to collect. We don't recommend shinning up to pick it yourself. Rather, get hold of a pole-pruning tool and find a bunch sitting a little lower in a tree. This should make it much safer and easier to access.

Contemporary Christmas Flowers
If you'd like to try something a little different this Christmas, you don't need to go the traditional route. There are tonnes of creative ideas which can turn your home into a warming, elegant natural winter wonderland – without looking run of the mill. We love traditional Christmas plants as much as the next person, but sometimes it's nice to try something a little different. Here are a few exciting ideas.
Traditional Palette, Modern Blooms
There are many more Winter flowers available in our increasingly modern, global society – so you can be creative come Christmas time! Try sticking to a traditional Christmas color palette of green, red and white – but using less traditional blooms like white roses, white Daphne varieties like Jacqueline Postill and red Hellebores.
Pale and Interesting
Alternatively, you could abandon your Christmassy color scheme and create floral arrangements with a gorgeous glacial feel. White hellebores, white roses interwoven with mistletoe and ivy look serene, snowy and definitely classy.
The Real Flower Company specializes in creative flowers for all seasons. From contemporary Christmas wreaths to gorgeously scented arrangements for your home; explore The Real Flower Company's Christmas collection online for some more festive floral inspiration.