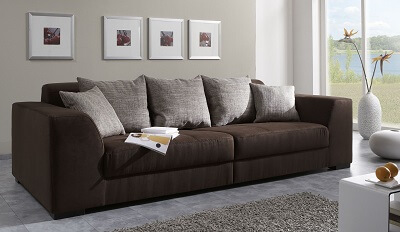 When you are choosing a sofa for your home, its design and the fabric it is made out of hold equal importance. You want your fabric sofas to be durable and retain their good look for long years to come. Life happens and you cannot prevent accidents – your pets will sleep on the sofa, red wine will be spilt, kids will make a mess – that's inevitable. So, when choosing your sofa and its fabric, think about who will be using it and how, and do not underestimate the fabric durability factor.
Durability
Woven patterns on fabrics usually last longer than the printed patterns. Another important element is the fabric's thread count – the number of threads per each square inch of the fabric. The average thread count is around 150, but you will find upholstery fabrics with а count of up to 400. Densely woven fabrics last longer.
In case you spend most of your time at home on the sofa, you'd better avoid choosing heavily textured fabrics. Patterns with raised texture tend to wear down in the areas where you most often sit and that will give your sofa a worn-out look.
Also, think about where you will put the sofa. If it will be exposed to sunlight, you should choose a fabric that will be able to withstand the effects of direct sunlight. Select a fabric resistant to fading or, alternatively, make sure the sofa is in a shady spot and not sitting in the sun.
Fabric Style
When selecting fabric sofas, you should make sure that the style of your chosen sofa coordinates well with the style of the fabric it is made out of.
Pattern
Traditional fabrics such as damask look good with more traditional sofa styles such as an English sofa or a Camelback. Modern sofa designs, on the other hand, go well with sleeker and more modern fabrics such as microfiber, rayon or leather, etc.
Content
Certain fabrics tend to have a more formal appearance, like silk for instance, while others have a more casual look, like linen.
Pattern Scale
The scale of the fabric's pattern, if it has any, should be coordinated with the size and style of the sofa it is used on, as well as the scale of the actual room it will be put in. Ensure that the pattern has no odd cut-offs. The thumb rule is: large-scaled patterns fit best on large fabric sofas put in large rooms.
Color
When selecting a sofa for your home, color holds great importance. It is very easy to get caught up in the latest color trends, but you should choose something that fits your room's décor and that you can live with. Don't be tempted to choose a trendy color that won't fit your interior design just for the sake of it; you will only regret it. After all, a sofa is not a small investment, so think long term.
Different colors can affect the mood of a room differently. You should keep that in mind not only when painting the walls of the room, but also when selecting the furniture and the accessories. Your sofa's color should go well with the rest of the room's décor, wall paint, furniture and accessories.
If you expect your sofa to be subjected to heavy use and staining, choose a darker color where the stains will not be that easily visible, or a stain resistant fabric. Fabric sofas in lighter colors are harder to maintain, too.
Another consideration you should not neglect is the sofa's scale in proportion with the size of the room. For a larger room, it is ok to choose a bright or bold colored sofa and balance this color with similar color accents in other furniture pieces and accessories. But if you have a smaller room, a bright color might just overpower the space, so it is better to stick to more neutral hues and add a few bold accents in the form of throw pillows.
Fabric Content
Would you like your sofa to be made out of a natural or a synthetic fabric? Or maybe a blend of synthetic and natural fibers? You have vast options to select from; however, not all of them are fit for furniture upholstery. Here are the most commonly used fabric types which are suitable for sofas.
Microfiber
This is a durable and stain resistant fabric with densely woven fibers, which has made it popular for sofa upholstery. There is a range of different microfiber types with different softness levels, so if you are considering this option, make sure you touch a sample of the fabric.
Chenille
Chenille is much more durable than most other fabrics. Thus it is best for sofas which are subjected to heavy use, like those in TV rooms. Chenille also has a gorgeous look when used on a sofa, so your furniture will be soft, comfy, and durable and will look stylish too.
Leather
Leather can fit both modern and traditional sofa styles. It is durable and quite easy to clean. There are different leather types and grades; some softer, while others – harder, and they look and feel different. However, leather would not be a very apt choice in case you have pets, as it is prone to scratching.
Acrylic
In order to keep the cost of the fabric down, acrylic is often combined with fibers like wool or linen. It is soft, durable, and stain resistant and does not wrinkle or fade easily.
Linen and Cotton
These are the materials used most popularly for fabric sofas. They are natural fibers which provide a cozy and soft feel. They are a bit harder to clean, though, so if you expect your sofa to be used heavily and attract stains, cotton or linen might not be your best bet.
Rayon
Typically, rayon is combined with natural fibers to give them durability. It has one major advantage – it is mildew resistant. However, it is relatively fragile and cannot endure a lot of wear and tear.
Silk
Silk looks elegant and luxurious, but it is expensive and difficult to clean, so it is not recommended to use for sofas. It is more suitable for throw pillows, which you can more easily dry clean.
As you can see, there are a lot of factors to consider when selecting fabric sofas. Keep your room design in mind and choose something that will fit your lifestyle and décor.
You can find more tips and ideas for your home decor and check out the latest deals online for quality and beautiful fabric sofas Buy Sofas Online here.