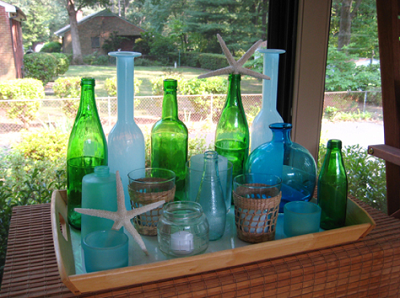 As much as wine bottles are made of glass, they are quite strong and reusable. As a safety precaution and to make them durable, lots of bottle manufacturers ensure they have made them very thick, using glass that is shutter resistant. While they can break, it will not be on account of their manufacture but due to an individual's carelessness. With wine bottles, you can start building lots of stuff across your home.
Flat Wine Bottle Cheese Tray
If you love wine or someone in the family does, they might have received lots of flat wine bottles. If not, they make wonderful gift items. The flat slumped bottle can be reclaimed for use as a cheese tray due to its gorgeous flat nature and sometimes comes with a cheese spreader. It will be a wonderful way of helping in the reduction of landfills to help the environment.
Flattened Wine Bottle Home Décor And Cheese Tray
If you have a flattened wine bottle, you might have forgotten all the features it came with and it would be satisfying if you looked at them again. In most cases, they are also cheese boards, right from the moment they were flattened and kiln fired. Flattened wine bottles make wonderful wall hanging, cheese trays and the décor you need in your bar. Some come with a cool metal hanging hoop around the bottle's mouth.
Wine Bottle Lantern
Through your wine bottle you can get a lantern. It is a good DIY project that you can undertake with your family especially your children.
Drinking Glasses From A Bottle
It is possible you have seen so many repurposed types of wine bottle glasses for drinking your favorite drink. By using a vintage bottle cutter that you can buy affordably secondhand on eBay or Amazon, you can create bold and unique drinking glasses rather than throw away your wine bottles.
Torching Your Wine Bottle
If you can get a couple of fittings from the downtown hardware store or from a web store, you can transform an old wine bottle into an effective torch to use in the outdoors. There are kits available and easy to assemble or you can just download a free plan on the internet.
DIY Liquor Bottle Planters
Across the web are so many examples and plans on how you can upgrade your old liquor bottles into some of the most eye-catching hanging planters. Some can have mini wine bottle planters.
DIY Bottle Chandelier
It is possible you have always thought about a chandelier especially in your holiday home. Some might not be to your liking but it does not mean you cannot make one, perhaps treating the project as a wonderful time to catch up with your sons and daughters. You might have spotted wine bottle chandeliers of more than $500 especially in chain stores. However, with only a couple of dollars, at most $50, you can easily embark on a DIY bottle chandelier making project and make one with your family. It will not only look great but very fulfilling and a lesson to your kids that they can get things done as well.
About Author
Marie is a blogger who has been writing on unique craft items made from Melted Bottles. She just loves to recycle and is very particular with what goes out of the house into the waste box.