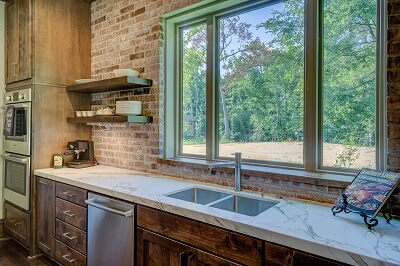 If you think white is too simple, think again! White kitchens are more popular than ever before – plus, there are plenty of ways to achieve a clean and crisp look that's perfect for you and your home. If you select quartz countertops, you'll have a wide range of options, and you'll be able to create a design that's functional and right on trend, while still utterly unique.
Quartz is known for its white coloring, but other tones can be incorporated as well. If you like the luxurious look of marble, select a quartz countertop with grey veins or swirls. This is a great option for those who find plain white countertops to be a bit stark and bright. Grey veins incorporated into white quartz countertops can bring just the right amount and warmth and drama into your kitchen or bath. This is also a great way to bring in the grey tones that might exist in other areas of the kitchen, like your stainless steel appliances, or patterns in your backsplash or flooring.
Other types of quartz countertops might include more dramatic patterns. Black specks and swirls paired with stark white coloring can incorporate other high-impact black and white design trends. Of course, if high-contrast looks aren't your style, quartz countertops are also available in varying shades of grey.  This is a great option for those who are looking for a more neutral countertop, or who prefer to leave the countertop as a backdrop for other design elements in the space. And if you do want that show-stopping bright white design, there's a quartz countertop for you, too. Choose a white with barely-there grey specks or swirls, or a high-drama, high-impact pure white.
What is so great about quartz in different styles of white, is the way it makes an entire room look fresh and clean. It really pulls together endless different styles, and matches just about everything. It can easily fit in with contemporary or vintage design styles – a trend that doesn't have to cost you a fortune.
We'd also be remiss if we didn't mention the durability and easy-care of quartz countertops, which makes them an excellent choice for high-traffic, spill-prone areas like the kitchen and bath. But as you can see, these countertops aren't just functional. They're also a beautiful focal point for your kitchen, easy to incorporate into any design, and capable of being a gorgeous focal point on their own, too.