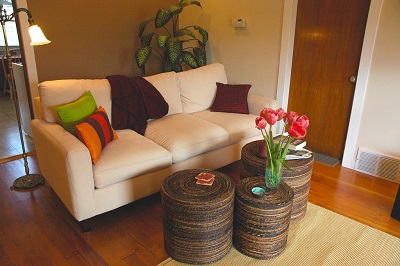 Unlike artificial carpets that affect your health and well being, sisal rugs provide a cleaner and more eco-friendly option. In contrast to sisal rugs which are made from natural fibers – artificial rugs, mats and carpets are treated with synthetic chemicals. These synthetic chemicals are the main culprits behind the emission of Volatile Organic Compounds or VOCs in your home. According to the website, SixWise.com – 'Anything, from petroleum related byproducts like polypropylene, acrylic, nylon, to soil and stain repellents, vinyl or latex, PVC, urethane, antistatic sprays, artificial dyes, and antimicrobial treatments, may be the culprit behind the emission of VOCs.
Sisal Rugs Protect You from the Harmful Effects of VOCs
While the USP of sisal rugs is that they are natural, all the chemicals found in artificial carpets are there for a reason too! If naphthalene is one of the chemical components found in a carpet, then that is essentially to protect it from moth damage. Likewise, PBDEs are included in carpets as fire retardants. However, the inclusion of these chemicals can seriously damage the human immune system and hinder human development in the long term. From hallucinations, nerve damage and respiratory trouble to more immediate reactions like sneezing frenzies, headaches, nausea and coughing fits, there's a lot to be wary about, where VOCs are concerned.
Why Sisal Rugs are a Better Alternative to Artificial Rugs
Not just you, but guests, who come visiting as well, could be affected by the toxins and VOCs emitted from your artificial carpet. In some ways, it is only when you realize the detrimental consequences of artificial carpets that you can fully comprehend the real value of investing in beautiful, decorative and natural rugs made from Sisal. Natural rugs are made from natural fibers like, sisal, seagrass, mountain grass, wool, jute and shag. Among these, decorative sisal rugs do stand out for their durability, flexibility, elegant look and natural beauty. Sisal rugs are made from natural plant fibers derived from a cactus plant called 'Agave sisalana,' found in Africa and Brazil.
Benefits of Sisal Rugs
Sisal rugs are an asset to own and decorate your home with, essentially because they are natural, strong, last longer, don't compress that easily and are also stain resistant and easy to maintain. WiseGeek.com observes, how even on the driest and windiest of days, sisal rugs do not build up static electricity and in fact, "may even help regulate mild changes in humidity by absorbing excess moisture in the air and releasing it during drier days."
Creative Ways in Which Sisal Rugs Can Add to the Beauty of Your Home…
The best part about leading sisal rug manufacturers today is that, they not only offer sisal rugs online, but at the same time, offer these in multiple colors, sizes, shapes and patterns. What's more, you even have the option of ordering customized sisal rugs from vendors.
Use Them on Floors, Walls and Ceilings
Decorating your home with sisal rugs can be a very satisfying experience, essentially because it brings your creativity to the fore! Whether you decide to place it on your floor, walls or even your ceilings, these rugs can change the mood and feel of your home and interiors. From natural beige shades, to gray, brown, green, purple, red, gold, ivory and multi-color, you can buy a natural rug in any of these colors and bring any boring areas in your home, back to life!
Use Them to Accentuate the Look of Your Room
Match them or contrast them with your walls, wallpaper, curtains, furnishings and flooring!  Pick sisal rugs in shapes and sizes that meet your requirements. Whether you want to place them below your dining table, in front of your sofa or couch, or even beside your ornate bed, these can fit in perfectly just about anywhere! Probably, the only place you need to avoid using them is in wet and humid areas like the bathroom, because they do absorb moisture and may retain water stains.
Unique Ways to Use a Sisal Rug
A sisal rug can also be creatively used on the wall to add color to it! Likewise, many people hang sisal rugs from the ceiling of their verandahs, using them as sunshades. In very stylish yet minimalistic homes, these are simply placed on the floor with multi-colored cushions. Guests who come home, actually sit on these rugs on the floor and find it a novel experience! There are also some extremely creative people who use sisal rugs to cover, what we know as walk in closets. They believe it helps to keep the ventilation going!
This article was written by Whitney. L. Coopeir, an experienced writer on homes and gardens, according to whom sisal rugs can add character to different parts of a home.