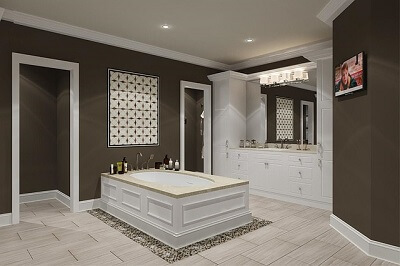 Small spaces, in general, present a bit of a daunting and difficult challenge for interior designers but most especially for DIY enthusiasts. But do not let this small snag deter you from undertaking such an interesting task. These spaces may seem rather small and you may think any design aspects would be of diminutive value, but consider that such small and inconsequential spaces may present clever design ideas that are not exactly available and possible in big spaces.
The biggest challenge in designing small bathrooms is to engender a design that would be aesthetically appealing and have a great functionality. This would mean that every design element in this bathroom should be equally functional as well as beautiful enough in order to save up on space. So, before you start this project, take a look at the tips listed below.
1.) Add storage
Instead of installing large and bulky cabinets inside your bathrooms, a great alternative will be to use small ones—preferably ones that would display their contents such as floating shelves and colorful storage ladders which would add personality and be a great fashionable addition to any bathrooms. Display your colorful towels out in the open as this will add warmth and fun colors to your space without clogging the small space.
2.) Properly plan how you daub your walls
When it comes to small bathrooms, you need to have a concrete plan for the colors you intend to paint your walls considering you have a small space to work with. Neutral colors work best in making your bathrooms feel calm and aesthetically appealing to the eye. To enhance the colors you will use, utilize textures and patterns in neutral tones to add depth and creativity and to augment the overall feel of your bathroom. Remember, white may be associated with cleanliness but it is also the color that would dirt and grime look more obvious.
3.) Make sure the furnishings are functional
Adding furnishings to small bathrooms can be tricky seeing as there but a small amount of space you can work with. Add the sink, the toilet and the shower area into the mix and you are virtually left with nothing, this is why functionality is imperative when it comes to decorating small bathrooms. Refrain from adding extraneous objects and items that do not serve a purpose or are purely decorative.
4.) Be playful with color
A great, space-saving and cheaper alternative to decking your walls with decorative items that serve no purpose is to utilize bathroom rugs with personality, display bathrobes with bold designs and put your hand towels out where they are easily visible. You can also use bathroom tiles with a bit of color to create a bit of flair and ambiance in a small space.
5.) Free up the Floor Space
One way of making a powder room or small bathroom feel considerably bigger is to add a wall mount sink as this frees up a lot of floor space which you can utilize for a laundry basket or any other bathroom fixture. It also gives your bathroom a unique look without taking up the extra space.
6.) Maximize Wall Space
Avoid unnecessary floor clutter by installing open wall cabinets that would serve a dual purpose: storage and décor. Wall mounted cabinets allow you to maximize as much floor space as possible without scrimping on the design and it is also a great way to put your interesting, cute and fun toiletries on display.
7.) Create an illusion using glass
Having a part of the bathroom sectioned off such as a glass shower enclosure would give off the illusion of space in a small bathroom. This is achieved by allowing you to see from one end of the room to the other tricking the eye into seeing a bigger space than there is originally.
Decorating and sprucing up a small bathroom may seem like a difficult task, but you can start by incorporating some of the design ideas above. Remember, a bathroom can be small but that does not mean it should also be small in design.