If you are planning to renovate to renovate your kid's corner, why not give them the room of their dreams. Instead of simply repainting or adding new furniture, try to play with your child's imagination. There are infinite ways in which you can turn this room into a magical place. It depends on your creativity, budget and skills. Here are some marvelous décor ideas that will make you wish you'd were a kid again.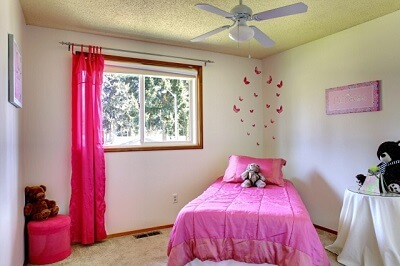 1. A Swing or A Swinging Bed

What child wouldn't love an indoor swing? Let's be honest, it was probably on your wish list as well when you were younger. Rain or shine, your kids will never be bored with this great décor addition. Why waiting to go the playground, when they can take their fair share of fun while being in their room. Plus, an indoors swing is relatively affordable and easy to install. Swinging beds are another cool little feature. Your kid will feel like sleeping on a cloud.
2. A Teepee
There is something about children and their desire to have their own hidden place. Even if they have their own room, they want a secret spot where they can fantasize and daydream. That is why you can be sure that your kid will appreciate a well designed teepee. Make it you're the DIY project for you and child. No need to hit the store. You have all the needed materials at home. Add fairy lights for more interest and coziness. A teepee is great way to create a separate play zone. In this way you will keep the mess at bay and make everyday domestic cleaning easier.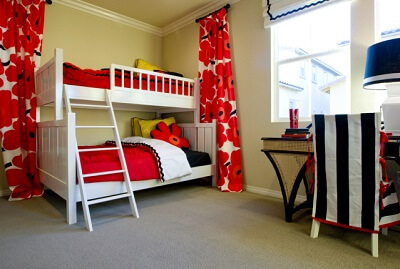 3. Draped Ceiling With Lights

Create an enchanting room with a fantasy-inspired draped ceiling. Get a light, semi-transparent fabric. You can use old curtains or other type of breezy textile. The little twinkling lights over the fabric will look like fairies or stars. The sparkling set-up may collect a lot of dust. Cleaning it regularly is a necessary to prevent allergies and provide healthy environment.
4. A Fairy-tale Theme

It's time to go wild. You can get inspiration from literally everywhere. For example, you can carve out the back of an ordinary wardrobe. Put it in front of the room's entrance and you have your own passage to Narnia. If this sounds like too much work, you can simply paint the walls of the place in a certain theme. Send your kid to an unforgettable journey in a magical forest, an open sea or even in the space.

5. Indoor Jungle Gym and Playhouse

Anything from climbing walls and other climbing frames to indoor tree house will keep your kids busy and entertained all the time. This is a quite complicated DIY project. If you are not crafty, you may leave it to the professionals. There is another downside of the jungle gym –the installment of these appliances may require a little after- cleaning as well.
Give your child an unforgettable childhood by turning their room into a magical and make-believe world.