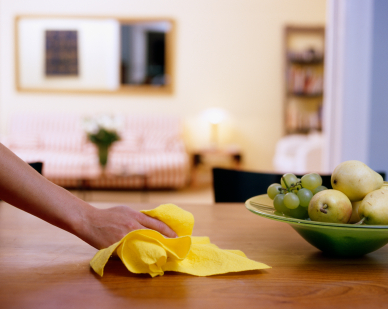 Most married men clean significantly less than their wives. While their intentions are to help out around the home and be just as efficient as their spouse, it often doesn't work out this way. Most wives will willingly clean the home, despite the lack of effort from their husbands. If you want to surprise your wife with something special, then you have to give her something she truly cares about. Having a clean home can be more important to a woman than you understand and house cleaning services are a great way to dramatically transform the home and get it cleaner than its ever been. Spring cleaning is an activity that very few enjoy, so why not outsource the job to a professional business? They can dust, clean and organize your home with greater efficiency than you can accomplish on your own and the low prices of today's cleaning companies makes it worth every penny.
A clean home can make her feel appreciated
You can show your wife how much you care by getting the house cleaned. Doing something nice like this will make her feel appreciated and loved, which is very important in a marriage. Cleaning a home is never fun and the last thing she wants to be doing is a deep clean in every room of the house. Hiring a business is a great way to get this done quickly and show your wife shes special to you.
House cleaning services are cost-effective
The recession has brought significant change to the house cleaning industry. Businesses are more competitive now than ever before and prices have come down substantially from where they once were. Some of the most professional businesses charge less than $25 per hour, making it very affordable for you to have several rooms cleaned at once. The cost-effective pricing of today's cleaning companies is an opportunity you don't want to miss.
Sometimes having a clean home is the greatest gift
When you ask a mother what is most important to her you will generally get responses such as the kids, jewelry and a strong marriage. What most men fail to recognize is that polite gestures such as paying for a house cleaning service can mean a lot to their wives and it helps build these aspects of the relationship. Strong marriages are maintained by making each other happy and doing things for one another.
Book an appointment and get an estimate online
If you know approximately how much space in your home needs cleaning and what types of things the cleaners will need to do, you can book an appointment and get an estimate online. Most house cleaning companies like HomeJoy Spring Cleaning have professional software that organizes and books their appointments, making it hassle free for you to get in touch.
Professional services from professional cleaners
House cleaning businesses go to great links to protect the integrity of their services. Most businesses thoroughly screen their employees with criminal background tests and regularly drug testing. Their cleaners are even licensed and insured. This provides you with peace of mind and a guarantee that the cleaning is going to be top notch.
Author Bio:
We are Homejoy and we are introducing our Homejoy spring cleaning services. It is never to early to start clearing up your space for the spring time.