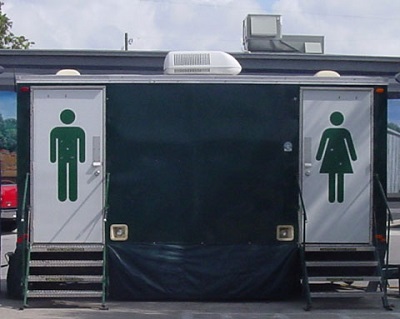 Every person needs the rest room. Sometimes, we can even just sit in there and do all the thinking and even reading. Other people even put television screens in the bathroom so they can watch their favorite shows while doing their thing. Alicia Keys once said, "If I want to be really alone and think, I go to the rest room." It is indeed truly comforting to get it all out in the rest room. However, we cannot always take them with us. Therefore, the portable rest rooms are the way to go when outdoors. Think about camping sites, construction sites and other outdoor events. While people before used to wait for their time to go home, or look for a private area to do what it is that they have to do, nowadays, it is a necessity for a camping site or an event to have at least one of these portable rest rooms for the guests. But what exactly are portable rest rooms? And what do they need to be equipped with? What are the things we should look out for to ensure our hygiene?
Portable Toilets, Porta Potties or Porta Loos?
Because of the wide use of these portable rest rooms, people from all over the world have come up with different slang. In the United States, they simply call it Porta Potties while the people from the United Kingdom call these Porta Loos. In the Philippines, just like the ones installed at home, they call it Palikuran.
Design, First Usage
The design aesthetic used in portable rest rooms is very simple—it is just an enclosure which contains a chemical toilet filled with disinfectant instead of water. The majority of the portable toilets has these black open-front U-shaped toilet seats with a cover. They are normally constructed using lightweight materials, commonly molded plastic, so as to ease the transportation. The first US patent for a polyethylene plastic portable rest room was recorded in the year 1960. The said patent was issued to George Harding, a co-founder of PolyJohn Corporation with Ed Cooper and George Hiskes.
Must-Haves
Lock
To protect your privacy, the portable toilet must have a lock. Despite being made out of plastic, it is still possible to install a keyhole. You wouldn't want anybody sneaking in while you are doing your thing!
Sanitary Bowl with Cover
This is both for health and sanitation purposes. The people who will be using the toilet are going to excrete waste, so it is necessary to keep it covered and sanitized at all times.
Water Pump
After doing your thing, it is common courtesy to "flush out" your thingamajig. It could also be helpful if a pail with water is on standby.
Sanitizer
Sanitizer or alcohol is generally for sanitary purposes. It is best to wash your hands carefully with water, and then use a sanitizer to kill the germs.
Tissue
You can never go wrong with this. You need it for various reasons.
Caution
It should be noted, though, that there are areas which require permits for portable rest rooms. This is because the foul smell that can be the result of overuse, or misuse, can harm a community. And because the toxic is stored instead, it can lead to skin allergies, asthma and other breathing problems.