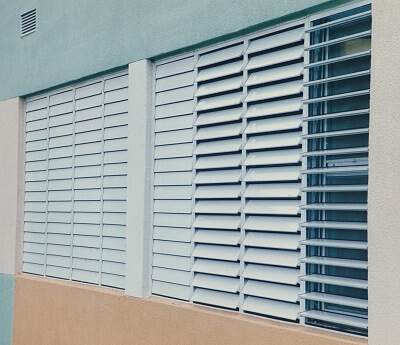 Louvered means any series of narrow opening window frames that are adjustable for admitting light and air while shutting out rain. Many home owners are discovering the usefulness of louvered windows in their houses, and they love it. This window system gained popularity back in the 1980s and is still popular today. Special materials are used for building louvered house windows. These windows are made up of horizontal blades or slats, and besides aluminum, the blades can also be constructed of glass, wood, or other materials. The blades of louvre windows are angled or slanted so that they can let in air and light while keeping out harsh sunlight and rain.
To adjust the blades, simply use the lever or handle. If you're considering louvre windows for your home, here are some of their benefits:
A louvered window system opens very wide in order to get maximum airflow.
Its adjustable blades let the user control the amount of airflow desired in the house. Airflow can be controlled by adjusting the window blades upward for maximum airflow.
It's easy to clean the window when necessary and you can clean both sides of the window.
In various countries, it's really common to install short, wide louvre windows above head height or close to the ceiling, which are also known as clerestory or highlight windows. These are used to circulate air and for warm air to exit. They can manually be operated or they may run on power units with remote controls. These windows not only give you a good cooling system, they also provide defused light and privacy, and no curtain or blinds are needed. In addition, if you set the windows lower in position, you can let more fresh air in.
Louvered windows are very efficient to use, and they have really good qualities that help provide a natural view while sitting inside the home. When it comes to building your home from scratch, the initial thing to consider is the door and window pattern. There are now many louvered houses in the different parts of the world. Louvre houses are one of the most popular and modern ways to build houses. Louvered houses are useful in controlling light and airflow, and by controlling them, we can conserve energy.
In regard to privacy using louvre windows, people generally prefer frosted windows, but you can also choose colored glass for the widows as a privacy option for your property. Moreover, if you want, you can choose different types of materials for the blades. They can be glass, timber, or even metal, and they are available in different shades and finishes. You also can easily fit security or insect screens. If you would like to find out how much the price is, you can ask the various companies who offer installation services related louvered houses. They will find the best price and help to install the windows for you.
Louvre windows are available for purchase if you wish. What you need to do is find the right place to install it. In addition, having the option of customizing the louvre windows makes it a very versatile feature for the exterior and interior. The window should be customized and built with the style of the house in mind. Not only are there choices for the right color to contrast and blend well with the walls and other elements of the house, but the finish can also be plain or decorative.
Author Bio:
Anna Chevhas written this article, and before writing, she researched different kinds of online materials, such as journals, articles, and websites, including 1800louvre.com.au. She has deep knowledge about the louvre-built houses and the companies providing help in this area.