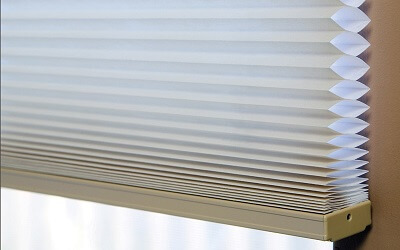 Honeycomb blinds also referred to as cellular shades have proven themselves over the years. They have been on the market for years. Window treatment manufactures have had years to work out any kinks as opposed to newer treatments just hitting the market and still being tweaked as problems arise. In this article you will find some of the benefits of honey comb blind so you can decide if they are right for you.
A simple way to make your home more energy efficient as well as environmentally friendly is to invest in cellular shades.  Cellular blinds come in a variety of styles and designs, so you do not have to sacrifice a beautiful decor when you get your shades of blinds.
In fact, you can find blackout blinds that allow you greater control over how much light you get in your home.  Filtering shades also offer you a greater light control as well as good insulation properties for both heat and cold.
Typically when you buy honeycomb or cellular shades for your windows, you donot think about the benefits of the shades and what they can do for you and your home. Surprisingly, there are many benefits of cellular shades, despite their thin fabric. Here are a few things cellular shades can do for you.
Benefits of Honeycomb Blinds
Reduced Energy Costs: Theinsulating properties of honeycomb blinds help your home keep a stable temperature making your air conditioning units or heaters work less, which means more money in your pocket!
Filter and Block UV Rays: UV rays are damaging to the photos, art, and furniture in your home.  Just like you protect your skin with sun block, you need to protect your rooms with honeycomb shades.  They offer a variety of filtering intensity to enable you control the amount of sunlight getting into your hose.
Visual Appeal: Honeycomb shades are visually appealing, adding a bit of elegance to any room.
Energy Efficiency: The shades provide exceptional energy efficiency due to their unique construction, which produces insulating air pockets. You will save a lot of cash from the extra energy. This is considering the rising cost of energy as the earth warms up. Being ecologically smart is a responsibility, as well as a way to save money. High energy consumption is not only expensive; it is draining our natural resources.
Filtered Light and Privacy: Honeycomb shades illuminate your home with filtered light, while still providing the privacy you require. That is what we like to call a win-win situation.
Blackout Honeycomb Shades: Basic blackout style honeycomb shades block light, making them perfect for bedrooms, nurseries, media rooms, or any room where less light translates into more comfort.
Noise Reduction: Not only do the air pockets created by the unique design of honeycomb shades provide exceptional energy efficiency, they also help reduce noise pollution.
Insulate your home with honeycomb blinds. The hexagonal shaped cells trap air inside, keeping your home warmer in winter and cooler in summer. The lightweight design expands for full coverage and contracts s away easily with either cord controlled or cordless operation.
Furthermore by installing honeycomb blinds you can also have some more benefits. For instance you can select from translucent to block out fabrics in a variety of colors and designs.
You can also get aluminum and steel head and bottom rail with plastic caps on both top and bottom. Fabric is constructed of polyester and has good insulation properties and is easy to clean. Honeycomb blinds contain an auto balance mechanism to ensure the bottom rail is always level.
You can choose from corded or cordless blinds.Child safety devices are not required as there are no looped cords.Cellular or honeycomb blinds are not suited where blinds will be continually moist as mildew can form. Block out fabrics block 99% of visible light and 99.9% of UV rays.
Author Bio:
Zenith Jones is the writer of this article. She has adequate knowledge about home interior design. In this article she educates her readers on the benefits of honeycomb blinds. She visited several website such as www.venetablinds.com.au for research and updated information of blinds.